Ann Arbor (Informed Comment) – The Saudi commission for the two holy cities of Mecca and Medina revealed in a tweet on Tuesday that it was making new high resolution pictures of the Black Stone of the Kaaba shrine in Mecca available. The stone has for over 1,400 years had an important place in Muslim pilgrimage, and it was allegedly part of pre-Islamic ritual, as well. It is perhaps analogous to Christian relics such as the wood of the cross on which Christ was crucified or the piece of his crib in Bethlehem, which was recently returned by the Vatican to the Palestinian city of Bethlehem.
#رئاسة_شؤون_الحرمين توثق الحجر الأسود بتقنية (Focus Stack Panorama)

ماهي هذه التقنية ؟
هي تقنية يتم فيها تجميع الصور بوضوح مختلف، حتى تنتج لنا صورة واحدة بأكبر دقة. pic.twitter.com/n0mWCPAw1r

— رئاسة شؤون الحرمين (@ReasahAlharmain) May 3, 2021
The Saudi team took 1,050 Fox Stack Panorama photos over 7 hours, producing a 49,000 mega pixels image, which took them 50 hours.
The stone is embedded in a silver casing on the southeast corner of the Kaaba, the cube-shaped building that is the center of Muslim pilgrimage. Pilgrims begin their circumambulation from it. They touch it or raise their hands toward it, and after 7 circuits some kiss it. Because so many people go on pilgrimage now, it is not possible for most pilgrims to get that close to it– 2.5 million pilgrims came in 2019.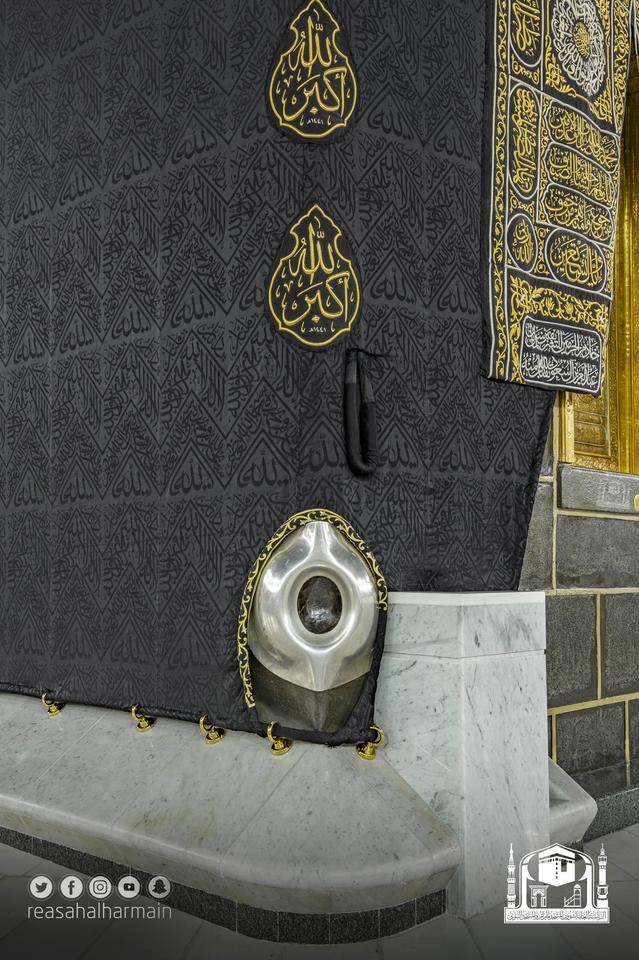 The origins of the Black Stone are contested. Some say it fell from the sky, so that modern scientifically minded observers have argued that it is a meteor. Others have asserted that it is an agate. It is certainly made of very hard material or it would long since have been worn away from being touched or kissed by millions of pilgrims over nearly a millennium and a half.
The Kaaba predated Islam, and was alleged to have been unroofed in the sixth century. Arabic-speaking tribes in Mecca and its vicinity saw it as a sanctuary (haram) to Allah or God, though they saw Allah as only one deity in a pantheon. They set up around it standing stones (nusub or betyls) that they believed were inhabited by lesser gods. They forbade fighting or feuding in its precincts, as well as hunting and cutting down trees. The clan of the prophet Muhammad, Banu Hashim, was alleged to be its caretakers and to have intervened to punish violators of the peace. Muhammad's grandfather Abdul Mutallib is said to have discovered or rediscovered a well near the edifice from which he could offer water to pilgrims, the well of Zamzam, whose waters are considered sacred by Muslims.
The Qur'an, the holy book recited to the people of Western Arabia by the Prophet Muhammad (d.632), speaks of the "noble sanctuary" (al-masjid al-haram). In that book it is asserted that it was first erected by Abraham and Ishmael, who, it is alleged, traveled in Abraham's old age on down from the land of Canaan to Mecca. The people of Western Arabia are depicted in this scripture as the descendants of Abraham who should have inherited his monotheism, but who had fallen into polytheism. Muhammad called them back to the Word (milla = Logos) of Abraham, i.e. the path of monotheism.
The Qur'an's chapter of The Genies 72:18–19 says, "Shrines belong to God; do not call upon anyone else there alongside him. And when the Servant of God stood up there supplicating him, they virtually swarmed around him."
Even before Islam the Kaaba was damaged by floods and other events and had to be rebuilt. It was rebuilt in 608 according to Muslim sources, with the help of a Greek artisan who had been shipwrecked (some of the wood from his ship went into the refurbished structure).
In 622, the Qur'an alleges that Muhammad and his followers moved to nearby Yathrib (later known as Medina) as the Meccans were potting violence against them. The Qur'an contains verses complaining that the Meccan pagans had violated the rules of sanctuary by depriving the believers of their access to the Kaaba and initiating war against them and attempting to coerce their consciences and return them to paganism.
In 630, Muhammad and his followers came peacefully back into Mecca and the pagan Establishment collapsed and accepted Muhammad.
I wrote about these events in my book,
After Muhammad's death in 632, the Arab Muslims erected one of the largest empires in world history, and with lightning speed. But it was wracked by internal faction fighting.
In 682-693 Abdallah Ibn al-Zubayr in Mecca and Medina rebelled against the Umayyad rulers in Damascus. He was the grand-nephew of Muhammad's wife, Khadija, and the grandson of Muhammad's first vicar, Abu Bakr, so he was very prominent.. When the Umayyad armies besieged Mecca in 683, the Kaaba was damaged and it is said that the Black Stone was broken into three pieces. Abdallah Ibn al-Zubayr rejoined them with a silver frame. He was killed when the Umayyads put down his rebellion in 693.
The militant Ismail movement, the Carmathians based in eastern Arabia, rebelled against the Abbasid Empire in the early 900s, and attacked Mecca. They carried off the Black Stone and extracted ransom from the Abbasid caliphs. It was returned in 952.
The Fatimid ruler al-Hakim bi Amri'llah (d. 1032) allegedly sent a saboteur to break the Black Stone, but he only chipped it before he was killed by Mecca's police.
In 1326 the great North African traveler Ibn Battuta wrote of his pilgrimage and his circling of the Kaaba in the white ihram robes:
"like a bride who is displayed upon the bridal-chair of majesty, and walks with proud steps in the mantles of beauty… We made around it the seven-fold circuit of arrival and kissed the holy Stone; we performed a prayer of two bowings at the Maqam Ibrahim [a shrine which houses the footprints of Abraham] and clung to the curtains of the Ka'ba … where prayer is answered; we drank the water of Zamzam…; then having run between al-Safa and al-Marwa, we took up our lodging there in a house near the Gate of Ibrahim."