Review by Fariba Amini.
Neda Toloui-Semnani, They Said They Wanted Revolution: A Memoir of my Parents, New York: Little A, 2022.
Newark, Delaware (Special to Informed Comment) – Beautiful, inspiring, heartbreaking and truth telling are terms that come to mind describing the new memoir by Iranian- American journalist Neda Toloui-Semnani.
Among the many memoirs written by Iranians and their experience of revolution and exile, "They Said They Wanted Revolution, a memoir of my parents" is one of the best I have read. It is written in such a gripping way that it is hard to put it down. It captures the imagination.
For me this may be because I knew both her parents, because we shared the same ideals and ideas. But what really leaves an indelible impression on the reader is that this work is written from the perspective of a young woman who lost her father when she was only three-and-a half, years old, which means that she had barely seen or remembered him, and then her mother many years later.
Both her parents were revolutionaries. They were members of the Confederation of Iranian Students, perhaps the largest student organization in the world at the time. I belonged to the same organization in my teenage years. We all fought against the shah, wanted a revolution, unaware of what would come next.
Neda's father, Faramarz was executed on January 25, 1983 by Iran's new rulers. He was only 38 years old at the time. Farah, her mother, lost her life from cancer in 2010. I barely knew Faramarz. I remember seeing him a few times in Chicago, where members of the Confederation lived together in a small apartment, and then at the famous demonstration against the Shah in Washington, D.C., where tear gas caused him and President Carter to cry!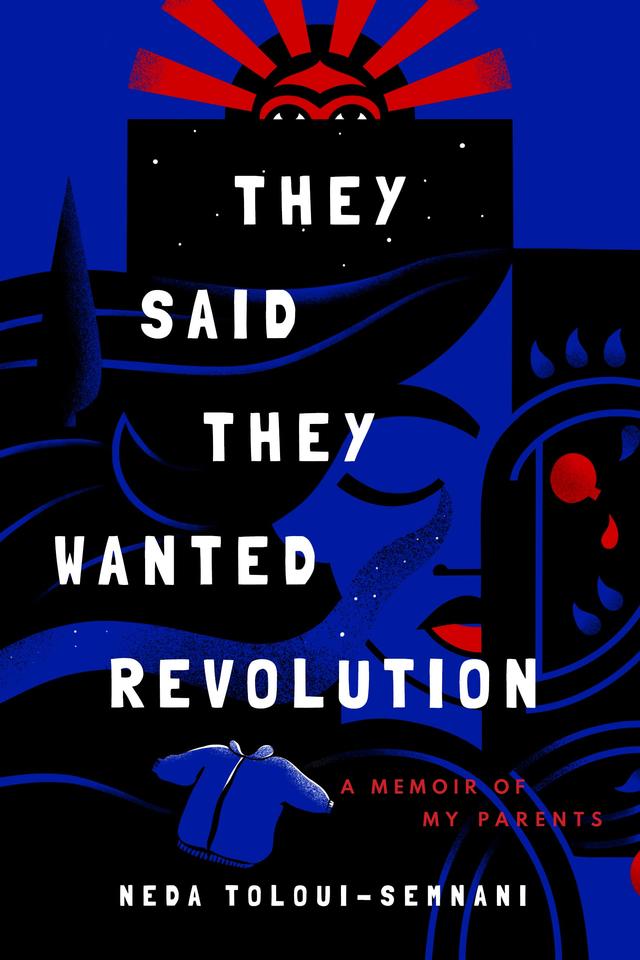 Neda Toloui-Semnani, They Said They Wanted Revolution: A Memoir of my Parents, New York: Little A, 2022. Click here.
I remember Faramarz's beautiful green eyes, which Neda inherited. But I knew Farah. I had come to know her, went to her house, and appreciated this lovely soul. She was an inspiration. I truly admired her and remember her infectious laughter. I still miss her.
They met in Berkeley, ahotbed of student activism in the 1960s. The Student for a Democratic Society (SDS) and members of many other organizations were there. It was the time of rebellion against the status quo. Everyone was a revolutionary.
In her book, Neda moves from Berkeley to St. Louis, Missouri, where her father first came to study engineering. Next, she moves to Iran, then back to D.C., and in between visits and lives in many other places. She traces the journey of her parents and wants to find out what motivated them. Why did they go that route? How did they meet? Why did they want a revolution? There are so many why's that this heart-wrenching memoir seeks to find the answers to.
Faramaz and Farah belonged to a wing of the Confederation which was at that time pro-Mao. There were many factions in the movement. I didn't belong to their group, but we all shared a common goal. We all knew each other and respected one another. Theirs was the Union of Iranian Communists. He came to America to study and somehow became politicized, ending up in Berkeley where his future partner and wife happened to be a student as well.
The Vietnam War was raging. Activism was our life. The Shah's regime was the number one enemy and so groups of Iranian students gathered around one goal: To topple the dictatorship.
Neda asks herself and her father's American girlfriend at the time (some 40 years later) "So if they wanted a Revolution, why did they have a family?" She is torn; she is still grieving for the father she had touched and loved and the mother she lost to cancer.
How did he die? From a bullet? What were his last hours like?
She and her brother Nema, the son who never met his father, remain close. Farah, seven months pregnant with Nema and the almost 4 -year-old Neda, crossed the border into Turkey, braving the cold, the smugglers who demanded more money and yet left them alone. The last leg of the trip, they walked barefoot until they reached the town of Van. It is a harrowing story of courage and determination of a woman, who, upon the advice of her husband, left Iran to save herself and her children.
The Islamists have now arrested Faramarz and he is awaiting his trial, likes hundreds of others. The judge and the jury have already decided their fate: Execution.
Like thousands of others, Faramarz and Farah go back, in hopes of a better Iran. Faramarz had gone to Iraq to oversee the radio station there, and Farah went to Yemen. It remains unclear how she spent her time in Yemen. They finally return to California. They mend their relationship but now the Revolution is in full force, so it is time to put their ideas into action.
We all know how that ended. Soon, the Islamists led by the Ayatollah round up their erstwhile allies. There is no mercy. Their version of Islam and Islamic state rules. A good communist or any leftist activist for that matter is a dead one.
There are differences in the group. A few dozen decide to go to the forests of Northern Iran, near the city of Amol, to start an uprising against the Islamic regime. They are called the Sarbedaran, after the 14th-century rebellious movement of that name. But Faramarz is against this armed movement. They are trying to copy the armed insurrections in Cuba or Latin America; they follow the same route, but Iran is not Cuba. They make strategic and tactical errors. Some take up guns and accidentally kill some locals. The Revolutionary Guards show up and round up everyone. They are brought to Tehran, to Evin prison, for months of interrogation and torture. And then a show trial begins, broadcast on television.
Faramarz Semnani is seen being interrogated by two despicable people.
The prosecutor asks, "How did you fight against imperialism? You were raised in the bosom of American imperialism. For fifteen years you sucked its blood. You grew up in America. You didn't even have the courage to slap an American cop across the face." "Your protest in America was an American plot, too. It helped the CIA to make it easier for people like you to recruit people."
Many of Faramarz's friends were in fact arrested and imprisoned in the U.S. They were called the 41. Forty-one members of the Confederation were arrested and imprisoned in California.
The prosecutor Assadolah Ladjervadi, cool and calculating, without an ounce of humanity (later assassinated by the MEK) and known as the butcher of Evin and the judge, Mohammadi Gilani, utterly ruthless and semi-literate, preside over the trial. The prisoners are mainly educated young men and women, sitting in rows, being called one by one, hounded, mocked, and demeaned. The families of some of the civilians of Amol are there for the show trial.
They chant "death to the communists." They are brainwashed.
Neda spends many hours interviewing her parents' old friends and family members. She talks to her aunts and uncles; she even travels to Iran and stays in the same apartment where her parents had some of their memorable days together.
Faramarz was not part of that group that took up arms. In fact, both tried to live a normal life in Tehran, not knowing what would be next. One day, when he goes out, to run an errand, he is arrested.
They never imagined that this was the last time they would see each other. It was the very last time. Faramaz sends a message to his wife from prison. Go to your mother soon—her mother, who lives in California.
Neda ends up with her mother in Washington D.C. Farah, still hoping that Faramarz will be acquitted. That is what she was made to believe.
Then the news comes. Farah's sister, Neda's aunt, Mahnaz delivers the news.
Farah is devastated. She just says, "Oh what a shame, what a shame." And then she screams and cries.
But now she has a newborn, Nema and she has Neda. She must survive and live.
She remarries years later to a well-known academic, the late Habib Ladjevardi.
But then cancer strikes. She is a fighter like always, but the dreadful disease finally takes over and she dies. Oh, how can life be so cruel? Why her? Why this beautiful soul who had gone through so much pain? It is a cliché, but life is not fair. "Mu, I love you as big as the universe, as wide as the ocean, and back, forever and always," Neda writes.
Neda's story is one of a hundred of others whose parents were imprisoned, executed, and or immigrated during the reign of the Islamic Republic of Iran. Each has a personal story to tell, but this memoir is told by a young woman who longed for her father and still does. She longs for her mother, Farah, my friend, who took her last breath at 2:45 on that fateful day, next to her beloved children.
This book captures the essence of goodness, of evil, of tragedy and of courage. It travels through time and space, through places and countries. It is a story of love, revolution, and Idealism. It is the story of Iran.