Ann Arbor (Informed Comment) – The UN Convention to Combat Desertification issued a new report, "Drought in Numbers 2022 on Friday, warning of the dangers of the climate emergency for further desertification and wildfires and massive loss of human life.
"The report warns that The number and duration of droughts has increased by 29 percent since 2000, as compared to the two previous decades (WMO, 2021)."
The powerful impact of these changes is not something distant: "The World Bank estimates that up to 216 million people could be forced to migrate by 2050, largely due to drought, together with other factors such as water scarcity, declining crop productivity, sea-level rise and overpopulation (The World Bank, 2021)." The Commission adds, "Within the next few decades, 129 countries will experience an increase in drought exposure mainly due to climate, change alone – 23 primarily due to population growth and 38 mostly due to the interaction between climate change and population growth (Smirnov, O. et al., 2016)."
216 million people is two thirds of the population of the United States. That's the scale of the refugee problem looming. The four or five million Ukrainian refugees present difficulties for the host countries, but this is a problem 40 times greater over just the next 30 years.
It isn't as though water stress was a minor problem in the 20th century, which saw global temperatures rise by about 1 degree Celsius, but it is rapidly accelerating in the 21st as humanity burns more and more coal, petroleum and methane gas. Driving gasoline cars is killing children as it releases carbon dioxide, a heat-trapping gas that is heating up the globe. In the past century, over 10 million people died of drought events, which cost $100 billion in economic losses.
The report says, "From 1970 to 2019, drought was one of the hazards that led to the largest human losses, with a total of approximately 650,000 deaths." That toll will now increase dramatically.
Already, about a third of humanity, 2.3 billion people, face "water stress." But the problem has gotten worse by 29% already in this century and will continue to worsen, since our carbon dioxide emissions have continued to be in the tens of billions of tons a year.
By 2040, UNICEF estimates that 1 in 4 children will be living in areas with extreme water shortages, and that every country in the world is at risk.
These dangers can be combated. The report says, " Land restoration is cost-effective: In Niger, farmers have substantially reduced drought risks by creating new agroforestry systems on 5 million hectares over 20 years, with average costs below USD20 per hectare (WRI, 2017)"
But the authors admit that the most effective measure to avoid more disasters is to limit global heating to a 3.6 degrees F. (1.5C) increase over the pre-industrial average. That goal is rapidly slipping away as governments dilly dally. The climate emergency is much more dangerous than COVID-19, by orders or magnitude, but we have seen governments take none of the drastic steps regarding it that they did to fight the pandemic.
They note that 24 countries have faced drought emergencies in just the past two years, including the United States and Australia.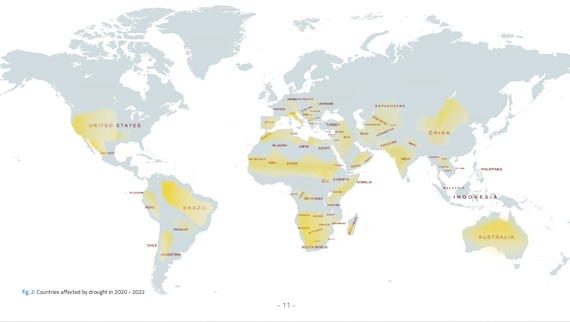 We are creating a negative feedback loop. The report points out, "One-third of global carbon dioxide emissions is offset by the carbon uptake of terrestrial ecosystems, yet their capacity to sequester carbon is highly sensitive to drought events." If rain forests are tipped over into being producers of carbon dioxide rather than carbon sinks, then it will cause global heating to speed up and get worse. This fate increasingly threatens the Amazon River basin.
Animals are threatened as well as plants. In Australia in 2019-2020, massive wildfires killed 3 billion animals.
Finally, the Commission issues a stern warning about our fossil-fuel addictions for anyone in Europe who thinks this is an African or Asian problem, observing, "If global warming reaches 3 degrees Celsius by 2100, as has been predicted, drought losses could be five times higher than they are today, with the largest increase in drought losses projected in the Mediterranean and the Atlantic regions of Europe."