Ann Arbor (Informed Comment) – Virginia's State Corporation Commission on Friday approved America's largest offshore wind farm project, a 2.6 gigawatt facility to be constructed by Dominion Energy 27 miles out from Virginia Beach.
The project could get some help from the Democratic Party Inflation Reduction Act, which the House will likely finalize soon, and which has $260 billion for encouraging things like the development of offshore wind farms.
The Coastal Virginian Offshore Wind (CVOW) development will be erected on a 112,800-acre tract leased from the U.S. Bureau of Ocean Energy Management. Having BOEM lease US federal waters for such offshore installations was pushed by President Joe Biden, and the leases are being rolled out on both coasts and the Gulf of Mexico, promising new gigawatts in offshore wind energy. Biden is aiming for 30 GW of offshore wind electric generation by 2030.
Scheduled to be completed by 2026, only four years from now, the wind farm will power 660,000 homes. That is one-fifth of the state's 3,184,121 households. It will avoid 5 million tons of carbon dioxide emissions annually.
Dominion estimates that the new facility will save consumers at least $3 billion during the first ten years of its operation. Wind energy does not need fuel, and if methane gas prices remain high, the company notes that savings could rocket to $6 billion.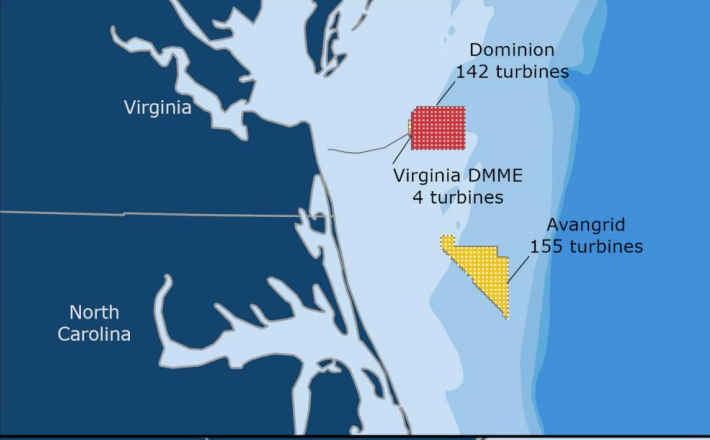 Virginia and North Carolina hope to obtain new renewable energy from the Dominion Energy project (top) and the Kitty Hawk development.- Tufts University School of Engineering image.
The Dominion project will bring a thousand long term jobs to the Hampton Roads region of Virginia, and will generate hundreds of jobs during construction.
The Virginia State Corporation Committee put the onus on Dominion, rather than consumers, to cover cost over-runs and delays and to deal with other potential setbacks, which the Dominion CEO called "unacceptable." It remains to be seen whether this requirement will be viewed as a deal-killer by Dominion, especially now in the light of its likely access to IRA funding and tax offsets. VSCC members pointed out that having private companies carry out such projects is not the only way to go forward. Despite its current governor, there are a lot of visionary progressives in Virginia.
For scale, we should note that the largest existing offshore wind farm is the Britain's Hornsea 1, at 1.2 gigawatts, so Virginia's new installation will be more than twice as big. There are, however, even bigger offshore wind farms in the pipeline in Europe, including Dogger Bank off Yorkshire in the UK, with a planned 3.6 gigawatts of electricity generation capacity. The Swedish firm OX2 is even more ambitious, aiming at a 5.5 gigawatt facility in the Baltic Sea, to come online in 2030.
The US has been a laggard in offshore wind. In the UK, the world leader in this industry, offshore wind is expected to generate more than a third of all electricity by 2030. And that is on top of onshore wind facilities.
Featured image courtesy Dominion.