( RFE/RL ) – As the authorities intensify their deadly crackdown on antiestablishment protests in Iran, some demonstrators are resorting to protest art to express their dissent. The street art and graffiti has targeted Iran's clerical regime, including Supreme Leader Ayatollah Ali Khamenei, and has appeared on public walls in major cities.
دیوارنویسی اعتراضی در #تهران؛ یکشنبه بیست و چهارم مهر #اعتراض‌های_سراسری پس از کشته‌شدن #مهسا_امینی در نقاط مختلف ایران ادامه داشت. pic.twitter.com/JOfts6wyXZ

— RadioFarda‌|‌راديو فردا (@RadioFarda_) October 17, 2022
Most of the graffiti is done at night. Several Tehran residents told me that they often see public walls spray-painted with anti-regime slogans in the morning. By the evening, most of the graffiti is washed off or painted over, they said. The next morning, new graffiti appears, highlighting the tug-of-war between the protesters and the authorities. One prominent message on a wall in Tehran reads: "Blood cannot be cleansed by anything."
Videos and photos posted on social media appear to show that anti-regime graffiti and public art is expanding.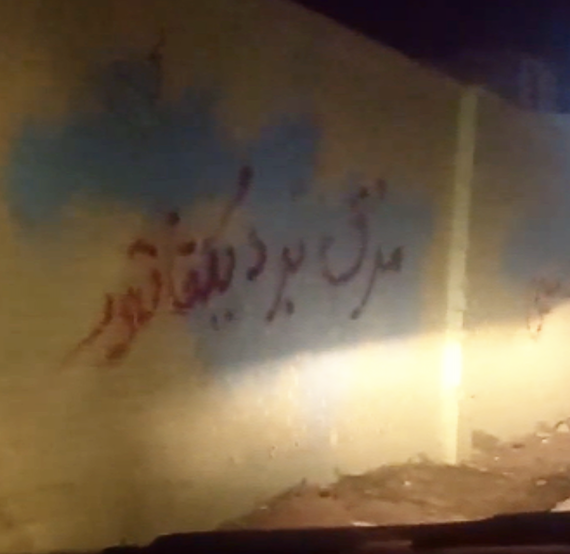 Death to the Dictator! Screenshot from Twitter.
Some of the art depicts Mahsa Amini, the 22-year-old woman whose death soon after being detained by the morality police ignited the nationwide protests. Other murals show the victims of the state's crackdown on the protests. Some of the graffiti includes slogans such as, "Death to Khamenei" and "Woman, life, freedom."
Why It Matters: Protesters are finding new and creative ways to express their anger at the clerical establishment, which has responded to the protests with lethal force and mass arrests. Besides resorting to protest art and graffiti, some Iranians have been shouting antiestablishment slogans at night from their rooftops and windows.
What's Next: Acts of civil disobedience are likely to continue and increase in the face of the government clampdown. Such acts allow protesters to sustain the demonstrations without marching on the streets, where they face a greater risk of arrest and harm. The overstretched security forces have found it difficult to stop street art and creative forms of dissent.
Via RFE/RL
Copyright (c)2022 RFE/RL, Inc. Used with the permission of Radio Free Europe/Radio Liberty, 1201 Connecticut Ave NW, Ste 400, Washington DC 20036.