Ann Arbor (Informed Comment) – Like Russian officials and failed diplomats, who seem to fall off buildings at a dizzying rate, Iranian young women under the harsh, patriarchal rule of the ayatollahs have developed the same health condition. Or so it is alleged by the official Iranian press. Independent organizations such as Amnesty International beg to differ.
First there was Mahsa "Zhina" Amini, 22, a Kurdish-Iranian young woman, who was arrested by the morals police for improper veiling and who mysteriously fell down and died while in custody. Her relatives maintain that there were clear signs on her corpse that she had been severely beaten. The Iranian government issued a coroner's report that maintained she died of a heart attack. Of heart attacks, only 0.2 to 1 per 1,000 involve people in their 20s.
She apparently did not fall far enough for the fundamentalist male authorities, so they have upped the ante in their subsequent attacks on uppity young women. Young women and students have been at the forefront of the wave of protests that have broken out for the past three weeks throughout Iran.
Nika Shakarami, 16, died in mysterious circumstances on September 20. She had gone to Kesharvarz Boulevard to join a protest. On her Instagram account, she posted a picture of herself burning her veil. Her mother last talked to her at 11:30 pm, and overheard people in the crowd say that security forces were coming and that they should flee. The line went dead. Then, Nika disappeared.
It took ten days for her mourning family to get the body back from the authorities. Then when they were about to have the funeral, government goons came and kidnapped the body and buried it in a remote village.
AP reports that Tehran police chief Gen. Hossein Ashtari asserted that Nika had joined a gathering on the roof of a multi-story building and had fallen to her death.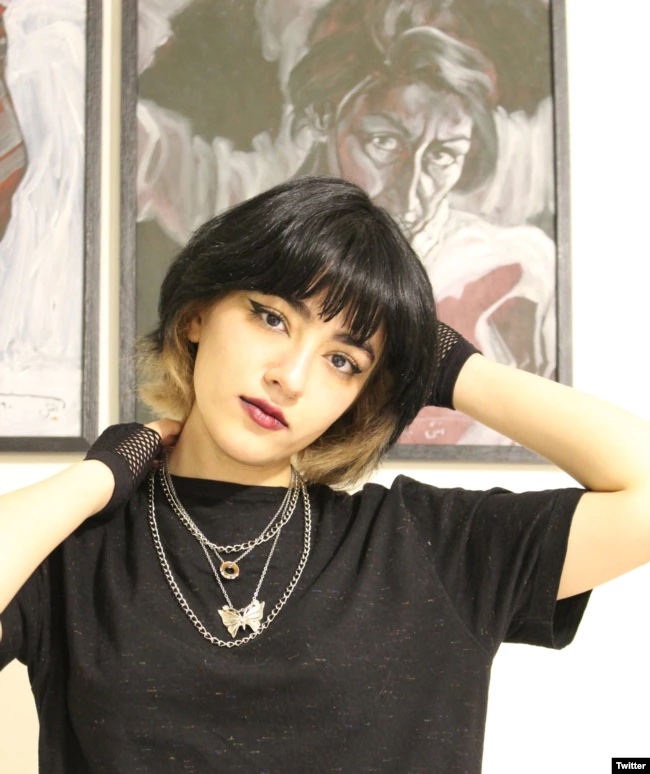 Nika Shakarami, via Twitter.
Nika's mother Nasrin sent a video to the US government outlet Radio Farda in which she said that Nika's body showed no signs of having been broken up in a fall– her limbs were intact. Only her head and face showed signs of violence. She believes that Iranian security forces beat her to death with blows about the head.
Then there is the case of Sarina Esmailzadeh, 16, of the town of Karaj near Tehran, as BBC Monitoring notes. Amnesty Internationl's investigation concluded that Sarina was beaten to death by security forces using batons to strike her head.
The chief justice of Alborz Province, Hossein Fazli Harikandi, maintained that Sarina and others were at her grandmother's house. She went up to the fifth-story roof from the stairs of her grandmother's house, and from there, she jumped onto the neighbor's roof. She then leaped down and committed suicide, the chief justice said. He also alleged that the mother admitted that Sarina had a history of taking pills and trying to commit suicide.
The official IRNA news service asserted that numerous deaths of young women unfairly blamed on the Islamic Republic's security forces have actually just involved them falling off or jumping off roofs.
Amnesty's interviews with people who knew Sarina, however, told a different story– the story of the baton blows about the head.
In the Egyptian youth revolution of 2011, the increasingly ridiculous explanations given by the government-backed newspaper, al-Ahram, made the Hosni Mubarak administration look buffoonish to the protesters in the street and stiffened their resolve. It will be interesting to see if the Iranian government jumps the shark, or is perceived to have.
Amnesty also got hold of leaked directives from figures such as the commander of armed forces in the northern Mazandaran province, insisting that they should "confront mercilessly, going as far as causing deaths, any unrest by rioters and anti-Revolutionaries." In other words, the state security organs have a deliberate policy of killing protesters.