Buffalo, NY (Special to Informed Comment) – Until recently, the reasons for Europeans to switch the sourcing of electricity from coal, methane ("natural") gas and nuclear reactors were the usual – climate sanity, sea level rise, ocean acidification (via CO2), and fossil fuel resource depletion. In addition, nuclear energy provokes eternal worries about the safety of the plants in the public mind. It is the nature of that beastie – it can be sort of safe until it is not safe. But a new reason to switch, especially from methane gas, which had been lurking in the background, has now become quite prominent. The question has been pitched, of where those fossil fuels come from, and who gets paid for them? The lowest cost sources of fossil methane for Europe were western Europe and Scandinavia –the Netherlands, Norway, Denmark, and the UK– on the one hand, and Russia, on the other. It turns out, however, that feeding the dictatorship in Russia comes with an increasingly severe price as well in potential subservience.
The full price that must be paid for Moscow's methane gas has come into stark focus, in the wake of the invasion of Ukraine. Moscow has turned to the archaic enterprise of empire-building via military conquest, once considered "so 19th and 20th century". At the same time, Ukraine had become a viable democracy that figured out how to deal with most of its corruption issues, and it turns out to be viewed as an existential threat to Putin & Co.'s reign of rampant authoritarianism. The bad odor of Russia's aggression, rather like that of the skunk that was living under the porch until it turned aggressive, is no longer a secret to anyone whose nasal capabilities have not been degraded by COVID, If you want to be able to buy Russian methane, gas coal and oil, along with lots of other industrial raw materials, you have to pay the going rate. That asking price is now both lots of money and a willingness to remain supine. This blackmail has a lot of people thinking that there is a better way to keep the heat on and lights lit.
It turns out that there ARE better ways known – it's the size of needed capital start-up investments required that is the stumbling block. In most of Europe, wind turbines are the lowest cost source of electricity and the most dependable regarding daily and seasonal variation. They can also be supplemented by hydro, photovoltaic and thermal solar, biogas and tidal forms of electricity-generation. Wind turbine output is proportional to the cube of the wind speed, so winds at 10 meters (roughly, yards) per second have around 2.9 times the potential electricity output versus times and places where 7 meters per second winds prevail.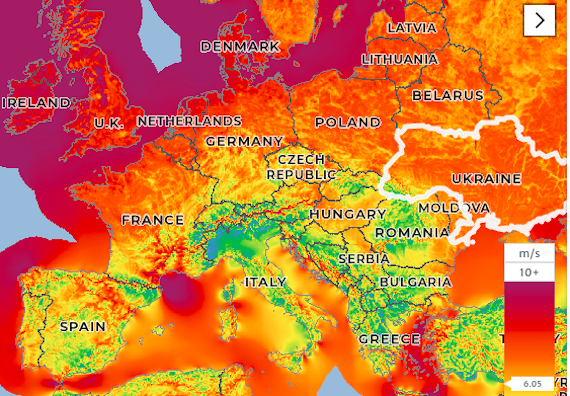 Ukraine Wind meters per second, screenshot from Global Wind Atlas .
So the shallow portions of bodies of water like the North and Baltic Seas, where standing turbines can be anchored, are suddenly looking really good. Of course, even incredibly windy regions like the North Sea occasionally go calm – making it important to tap other areas far away, with different weather systems. One of those regions is potentially Ukraine. Linking it to green electricity exchanges would also benefit Kyiv when winds die down across its lands, since it could import inexpensive wind-generated electricity on those occasions. Wind turbines, it turns out, go really well with agriculture, and would form a new source of revenue for farmers devastated by the war.
Anyway, check out the Global Wind Atlas . The screenshot is from this amazing resource. For example, at Nizhyn, Ukraine the estimated average wind speed is 8.26 meters per second at 150 meters above the ground. Any electricity made is also an income for farmers as well as money for the community and country if the electricity is on net, exported. And farming would be unaffected.

Ukraine Wind meters per second, screenshot from Global Wind Atlas .
For onshore wind, areas with an average wind speed of more than 7 meters per second, via Low Wind Speed Turbines, are "golden", while offshore wind turbines where winds average more than 8 meters per second seriously rock. Why, you could mostly power up a civilization with them these days – and safely tell a greedy dictator and wannabe ruler of the world to keep those hydrocarbons in the ground – where they belong. A simple choice confronts us – freedom with renewables or slavery via continued addiction to foreign-sourced fossil fuels. Hey, and we would also get a viable climate, lots of jobs and new businesses to go along with that freedom. It is not a hard choice.