Ann Arbor (Informed Comment) – The industry think tank SolarPower Europe has concluded that new solar power installations rocketed up in Europe by nearly 50% in 2022, driven in part by the spike in fossil gas prices caused by Russia's war on Ukraine.
Europe installed 28.1 gigawatts of solar power in 2021.
In 2022, Europe installed 41.4 gigawatts of new solar.
Over all, total installed solar capacity in the European Union grew by a quarter, from 167.5 gigawatts in 2021 to 208.9 gigawatts today.
And that is only the beginning. Europe needs to do another 50% increase in new installations in 2023 in order to compensate for a shortfall in imported fossil gas. The good news is that SolarPower Europe believes that feat is eminently doable — in fact they believe Europe could put in 67 GW of new solar next year in a best case scenario.
Germany was the country that added the most new solar power, some 8 gigawatts. One gigawatt is the nameplate capacity of a single small nuclear reactor. Spain came in second with 7 GW.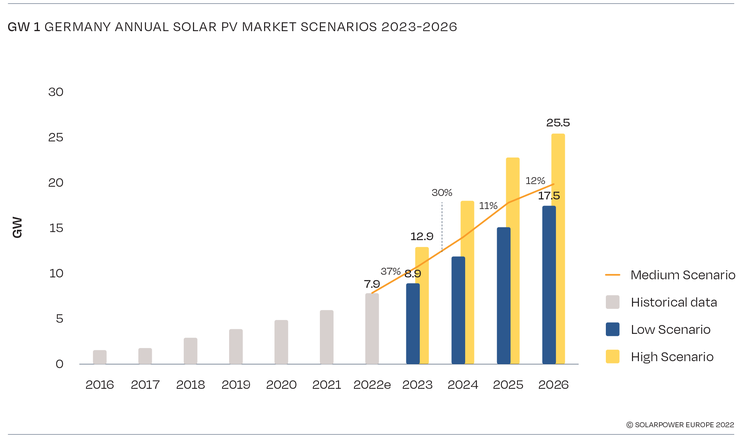 H/t SolarPower Europe, which holds copyright.
Germans are also leaders in combining solar panels with home batteries, which can store the power of sunlight during the day so that it can be drawn down at night. Europe has an incredible 9 gigawatts of home batteries installed, powering 1 million households.
Dries Acke, Policy Director at SolarPower Europe, said, "It's more than high time to take solar seriously. That means tackling barriers head on. We need more electricians and stable electricity market regulation. A solar-powered Europe can only be based on smoother administrative processes, speedier grid connections, and resilient supply chains." 
In good news for the industry, the European Union is streamlining permits for solar installations, insisting that the permitting process take no more than 3 months. The move comes in response to the high cost of fossil fuels caused by the Ukraine War.
Europe will also support a new solar panel industry on the continent. At the moment 80% of solar PV panels are produced by China, but Europe feels the need for its own production. Europeans are hoping for the capacity to manufacture 30 GW of solar panels by 2025.
The United States only had 135.7 gigawatts of installed solar capacity by the end of the third quarter of this year, though it is expected that the industry will be turbocharged by Joe Biden's Inflation Reduction Act over the next decade. The U.S. only put in about 15 new gigawatts of solar in 2022, in part because of supply bottlenecks. The U.S. is badly lagging behind Europe and China in solar installations in large part because of the Big Carbon lobbies in this country are so powerful and because US politics is more corrupt than in, say, Germany. A lot of what U.S. politicians do regarding fundraising would send a person to jail in Europe.