( RFE/RL) – The family of Mahsa Amini have blamed Iran's security forces for vandalizing the grave of the young woman whose death while in police custody in September 2022 ignited nationwide protests that have turned into one of the biggest threats to the Islamic republic's leadership since it took power in 1979.
The Amini family's attorney, Saleh Nikbakht, told journalists that early on May 21, "individuals, known for such distasteful actions in the past, attacked and destroyed the tomb of Mahsa Amini."
He then showed pictures of the damaged gravesite that he received from Amini's parents. He said Amini's father revealed that authorities had obstructed the installation of a protective canopy over the grave by threatening a welder that, if he carried out the work, his business would be closed. He did not show any evidence, however, that specifically linked any security officials to the damage.
Mojgan Eftekhari, Amini's mother, had alerted the public to the desecration of her daughter's grave and said she also was upset about the closure of the entrance and exit to the cemetery by officials.
"Please refrain from disturbing the people; their loved ones are here," she wrote in a statement addressing government officials who she said were hindering access to the site.
Ashkan Amini, Mahsa Amini's brother, shared a picture of his sister's grave on Instagram, writing that "even the glass of your tombstone bothers them," referring to Iranian officials whom the family and supporters blame for Amini's death on September 16 in Tehran.
Amini's brother said this was the second time his sister's burial site was destroyed, defiantly stating: "No matter how many times they break it, we will fix it. Let's see who gets tired first."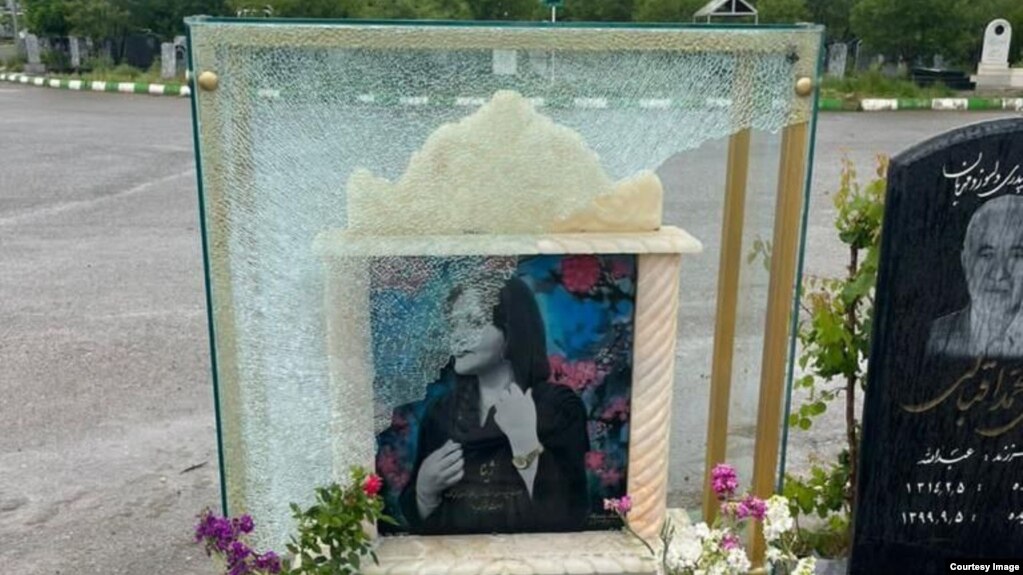 Mahsa Amini, 22, from the western Iranian city of Saqez, died during her arrest by morality police on a family trip to the Iranian capital. The incident triggered a wave of protests that rapidly swept the nation.
In October 2022, Nikbakht, along with his colleague, Ali Rezaei, took charge of the Amini family's security and filed a lawsuit on behalf of Mahsa's parents against those implicated in her death. To date, the Islamic republic's officials and the judiciary have yet to address the complaint.
The Norway-based Iran Human Rights group says the unrest has led to the deaths of at least 587 individuals, including dozens of children and teenagers.
Additionally, many have lost their sight due to the use of pellet guns by security forces, and at least seven arrested protesters have been executed by the Islamic republic's judiciary.
Iranian government forces have been accused of attacking and destroying the resting places of killed and executed protesters, cultural figures, poets, writers, artists, critical political forces, and even Baha'i citizens, and in some instances, Christians.
In 2020, Amnesty International reported that officials, by concealing burial sites, inhibiting mourning ceremonies, and preventing families from installing tombstones or decorating their relatives' graves with flowers, pictures, badges, or memorial messages, are violating these families' rights and Article 15 of the International Covenant On Economic, Social And Cultural Rights.
Written by Ardeshir Tayebi based on an original story in Persian by RFE/RL's Radio Farda
Via RFE/RL
Copyright (c)2022 RFE/RL, Inc. Used with the permission of Radio Free Europe/Radio Liberty, 1201 Connecticut Ave NW, Ste 400, Washington DC 20036.