Ann Arbor (Informed Comment) – The Pew Research Center has released the results of a new US poll on climate change and green energy. It gives reason for hope, though some of the results are a little discouraging.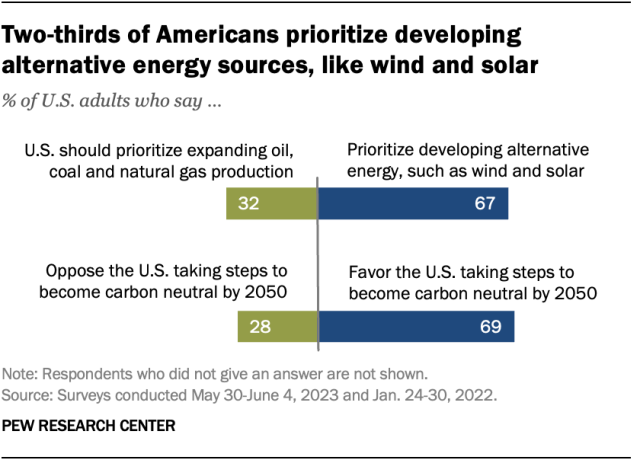 The poll found that 67% of Americans want to prioritize green energy such as wind and solar. In contrast, nearly a third wanted to expand coal, oil and gas.
Further, even more — 69% — support the US becoming zero-carbon by 2050.
Some 90% of all Democrats and 67% of Republicans under 30 want to prioritize wind and solar, whereas among all Republicans 58% want to prioritize coal, gas and petroleum. The young people have an idea of the whammy that is about to hit them. The old Republicans are the blindest to it.
On the other hand, younger Americans are more likely to want to go to 100% renewable power than their elders, who seem to have trouble imagining such a thing or maybe who aren't sure about the stability of the grid with just renewables.
About two-thirds of Americans also think that government incentives for wind and solar are appropriate. Wind and solar power are popular.
Only 43%, however, say the same thing about electric cars and a similar percentage want the government actively to discourage EVs. That is something I cannot understand. Auto exhaust gives you lung cancer and heart attacks. Why would you want that? Also 28% of heat-trapping gases come from the transportation sector. Americans are obviously peculiarly resistant to EVs, though the 142 million or so that support EVs are a fair market.
Only 21 percent want the government to encourage coal mining, and 34% think the government should back oil and gas drilling.
The two-thirds of Americans who have their heads screwed on right also think that big corporations and companies are doing too little to reduce greenhouse gases. My guess is that consumer boycotts of the dirty corporations will proliferate as the ill effects of the climate emergency hit people where they live with increasing frequency and severity.
Only 54% of Americans, slightly over half, say that climate change is a major threat. This percentage is a little lower than in 2020, though this dip seems to have something to do with the transition away from landline telephone survey techniques that began in 2020. The audience reached by online surveys in the past three years somehow may exclude some of the people most concerned with this issue. The poll finds a strong partisan divide throughout, so 78% of Democrats think climate change is a major threat and 23% of Republicans say it is.
Still, in 2013 only 58% percent of Dems thought climate change a major threat, and only 22% of Republicans. So they've been paying at least a little attention.
And 74% of Americans think the US government should be involved in international efforts to reduce the impact of climate change.
So to recap, only a little more than half of Americans say that climate change is a major threat. Alas, the 46% who doubt that proposition will find out soon enough.
But even though too few of us feel the urgency of the issue, we really like new energy sources like wind and solar. A lot of people, though, seem to like them because they are cheaper, or just really cool, rather than because they are absolutely necessary to save our necks. Whatever, I'll take the win.
One takeaway is that Biden's Inflation Reduction Act is genuinely popular in its emphases, and may be harder to roll back than Republicans fondly imagine.
That young Republicans are much more alarmed at the climate crisis than their elders is also really good news. I'll bet they rarely watch Faux Cable "News" and are consuming a wider range of media. Plus the ones who live in Phoenix or Miami can just see the threat with their own eyes.
The bad odor in which Americans hold the corporate sector for not doing enough to promote green energy is also encouraging. It means that the corporations in businesses other than fossil fuels are vulnerable to customer pressure and buying choices. Increasingly, consumers will choose a cleanly made brand over a dirty one. In America, businesses matter, and if they get this message many of them will accelerate their efforts to go green. Amazon, Ikea, even Walmart seem to realize this truth, but many others are laggards and may well suffer at the cash register.