Global opinion appears to be shifting against Israel – but will that be enough to force an end to the bloodshed?
By Paul Rogers | –
( OpenDemocracy.net ) – As we near the seventh week of the war in Gaza, the extent of the devastation and loss of life is such that many Western governments are coming under pressure to back ceasefires – with France and Ireland having already done so.
In the UK, MPs voted against supporting a ceasefire on Wednesday evening. Fifty-six Labour MPs voted for the measure, rebelling against Keir Starmer's order to abstain, including eight frontbenchers who have left their posts over their defiance.
Starmer, like Rishi Sunak and many other Western leaders, is instead urging restraint with humanitarian pauses. Without their backing, is there any possibility of a ceasefire and an eventual return to negotiations?
In Gaza, sustained air strikes and artillery fire have killed some 11,000 Palestinians, including 4,500 children, and wounded 20,000 more. The whole of the Gaza Strip has been besieged, with food, water, fuel and electricity withheld. Some hospitals have closed and others will follow shortly. Around 1.1 million Palestinians have been ordered to move to southern Gaza and while most have, as many as 200,000 have not.
This devastation also has the function of deterring Palestinians in the West Bank – where violence has increased significantly – from responding to the hugely heavy-handed treatment being meted out by Israel Defence Forces (IDF). Since 7 October, 185 Palestinians have been killed in the West Bank and 2,500 wounded, according to the Palestinian health ministry.
The level of shock still being felt in Israel from the 7 October attacks by Hamas should not be underestimated and extends right across society. The loss of civilian lives was the worst in the state's 75-year history, with 1,200 people killed and up to 240 taken hostage, as well as some reports that dozens more IDF soldiers were 'spirited away' by Hamas.
That few Israelis acknowledge that this number is far less than the tens of thousands of Palestinian civilian lives lost in the same 75 years is allowing Binyamin Netanyahu's far-right government considerable freedom in its determination to destroy Hamas and, as it sees it, make Israel safe again.
The Israeli government views Gaza as the main problem. It has attempted to build support for moving hundreds of thousands of Palestinians across the border into Egypt. Joe Biden's administration in the US has come out against that, as well as against Israel permanently controlling Gaza, which would imply the long-term garrisoning of the territory and its people.
As US policy slowly shifts, senior figures in the US military are now talking of the need for a limited war – the implication being that this must not go on for months – because of the rapid loss of support for Israel in the wider world beyond Europe.
Israel is not remotely up for that, with the Financial Times reporting that "Israeli officials have suggested that Gaza will be sealed off from Israel and potentially squeezed ever tighter by new buffer zones and security barriers inside the strip".
Many analysts will argue that Gaza has been akin to an open prison for over two million Palestinians for the past 15 years, but this latest suggestion sounds more like a vast closed prison, with all exits sealed off.
Netanyahu government's stance presumes that the IDF can actually destroy Hamas but, despite many decades of effort to cultivate support across the Global South, the global mood is turning against Israel as it reduces streets to rubble and destroys neighbourhoods. That is reflected in increasingly trenchant statements from UN secretary-general Antonio Guterres about Gaza becoming a "graveyard for children".
A grim consequence is that we are already seeing a dangerous worldwide rise in antisemitism – with talk of a 'slaughter of the innocents', with all its biblical meanings – and Israel becoming a pariah state.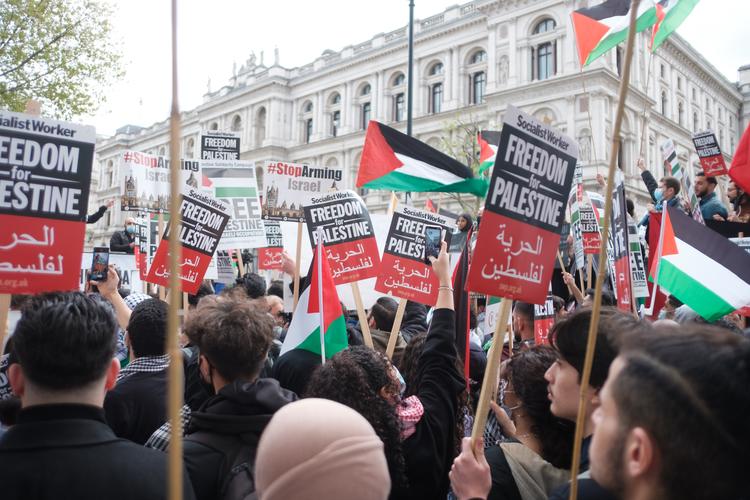 Photo by Ehimetalor Akhere Unuabona on Unsplash
How far this war goes on may now depend on the Biden administration as only the US has the clout to demand a ceasefire, not least with over $13bn of military support for Israel just agreed by Congress. It is highly unlikely Netanyahu will be persuaded by anyone else, not even the full weight of the EU states even if they gather together sufficient unity.
While there are deep divisions among the seven million Jews in the United States, there is also a further element to factor in: the US's tens of millions of evangelical Christian Zionists – and their propensity for voting Republican. Biden is looking at an Israel lobby rather than a Jewish lobby, which he will no doubt view as a substantial concern in an election year.
For now, the US president remains committed to avoiding a ceasefire, and the prospect of a negotiated long-term peace agreement is therefore remote. Without an abrupt and unlikely collapse of Hamas as a paramilitary force, the war will continue into the New Year and beyond, with no end in sight. Israeli military operations will likely continue along the current pattern of air and artillery attacks, coupled with the use of special forces and other elite troops in individual assaults.
What happens further down the line will depend on whether Netanyahu remains in power – the war is proving to be a protracted affair and his far-right government could come apart sooner than most analysts think.
If the government does manage to hold on to power, and the IDF carries on as now, global leaders will likely eventually back a ceasefire with calls that become too strong to resist, but that could take many months.
If Netanyahu's government falls, though, a ceasefire becomes more likely and could eventually lead to an uneasy stability, with 'peace' being too strong a word to use. With preliminary negotiations then possible, the conventional view is that there are two broad options for the future: two states comprising separate Israeli and Palestinian territories or a single state with human rights for all.
If the second option is considered, it is hugely complicated by the fact that Israel and the occupied territories already function as a single state. The Israeli parliament, the Knesset, is the law-making body for the State of Israel but also exercises final control over the rest of the territory. Its rule covers 14.1 million people: 7 million Jews and 7.1 million non-Jews. The two million Israeli Arabs within the 1949 boundaries have voting rights but the 5.1 million in Gaza and the West Bank do not, so Israel can hardly be described as a parliamentary democracy.
Indeed, the ruling party in the current coalition, Likud, has in its original 1977 policy platform a clear statement of where it stands: "The right of the Jewish people to the land of Israel is eternal and indisputable and is linked with the right to security and peace; therefore, Judea and Samaria will not be handed to any foreign administration; between the Sea and the Jordan there will only be Israeli sovereignty."
It is true that most students of the conflict assume that even the beginnings of a negotiated settlement, should one come about, will be based on the two-state solution but that is far from the view of many Palestinians. Even so, working towards transforming that single 'state' into a full democracy with uniform rights might be better for all, but it would be a task stretching over at least a generation.
Either way, the current conflict has already meant that Hamas is achieving its aim of a long war that will see many tens of thousands of young Palestinians further radicalised by Israel's brutality. In the coming years, the Netanyahu government may end up having been the recruiting sergeant of choice for Hamas or whatever movements succeed it.