By Khaled Alashqar | (IPS) —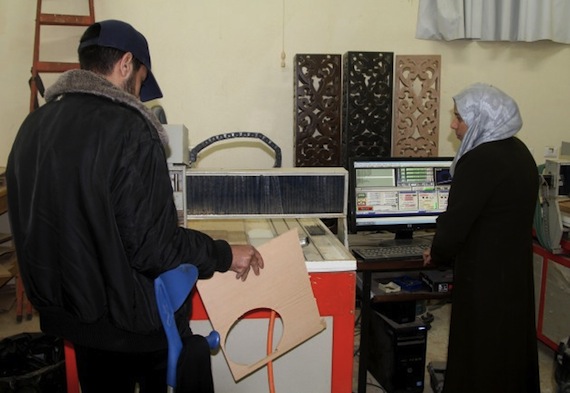 Samah Shaheen (right), one of Gaza's many disabled young people, joined the Irada programme to acquire expertise, learn computerised wood carving and escape social marginalisation. Credit: Khaled Alashqar/IPS
GAZA CITY, Jan 17 2015 (IPS) – The Israeli attacks that the Gaza Strip has suffered in recent years have left in their wake a large number of young people who have come up against a further barrier to their creative energies – physical disability caused by military aggression.
Institutions here are increasingly facing the challenge of developing rehabilitation programmes to help support these physically disabled Gazan youth cope with living under the existing harsh political, economic and social conditions.
One of these programmes – known as "Irada" ("will" in Arabic) – is providing young people who have been disabled by war with vocational training with the ultimate objective of helping them earn their own livelihoods.
Launched by the Islamic University of Gaza, the Irada programme aims to support, train and reintegrate physically challenged young people in social and economic terms and boost community trust in the abilities of this so far marginalised group. More than 400 persons with all types of disabilities have already received rehabilitation and training.
Irada project director Emad Al Masri told IPS that the project concept was initially developed for the massive number of young people who became disabled as a result of the Israeli war against Gaza in 2008. The project received support from the government of Turkey for the building construction to house Irada's academic and vocational training programmes.
"The basic idea of the project is to help disabled people and reintegrate them into the community and help them to be productive instead of being seen as a burden," Al Masri said.
Samah Shaheen, a 33-year-old from Al-Bureij refugee camp, has a physical disability that makes it difficult for her to engage in community activities. She joined the Irada programme in an attempt to acquire expertise and learn computerised wood carving. She spent more than six months in training before moving on to practice her new skills within the community under Irada supervision.
"I spent several years of my life jobless due to my disability, and also because I had no experience," Samah told IPS. "After I joined the [Irada] programme and learnt computer skills for carving and decoration on wood, I now have a career, earn well and I am seriously thinking of opening a workshop because of the overwhelming response to the ornate wood furniture products that I have made."
Central to the Irada rehabilitation programme is to follow up with the disabled people who have received training after leaving the programme in order to ensure their integration and participation in the labour market. Part of this follow-up strategy also includes monitoring their progress in the workshops and factories where they are employed, and offering professional support if needed.
Because of its success, the Irada programme has been awarded funding by the United Nations Development Programme (UNDP) to help programme graduates start up small business projects, develop their economic independence and enhance their production profile.
Tariq Sha'at, NGO Coordinator for UNDP, told IPS that "UNDP allocated 150,000 dollars to establish centres for the production of home furniture throughout the governorates of the Gaza Strip and help 90 disabled trainees to manage their own businesses, continue their lives and reintegrate into the society naturally."
Adding further success to the promising and successful Irada programme, three female information technology (IT) students from the Islamic University of Gaza have designed the first application to enable visually impaired people to write in Braille language on smart phones in Arabic.
Seen as a major breakthrough, visually impaired people can now download and install the application for performing all operations, including calls and text messaging. It also allows physically impaired people to use smart phones with high efficacy and facilitates communications with people in the wider society.
Dr. Tawfiq Barhom, Dean of the Faculty of Information Technology, explained to IPS that "this group of female students was able to provide a great service to the community of visually impaired people, in addition to winning a global competition in which the application was selected as one of the five best projects for developers from among 2500 projects."
Students are now trying to develop this application even further by increasing the number of languages supported to facilitate use by larger groups worldwide. Israa Al Ashqar, one of the students on the project team told IPS that the project came about because of the marginalisation experienced by visually impaired people in society and their increased isolation as a result of their inability to use social media and smart phone applications.
"The application will provide a Braille keyboard for every programme used by visually impaired people on mobile phones which will allow them to use social media and communicate with their community naturally. This will in turn increase the chances for this marginalised group to integrate into local and global society," she said.
Together, the Irada programme and the Braille smart phone application represent a serious attempt by universities and students in Gaza to support an important section of the community that has not only suffered from wars and traumas but also hopelessness and isolation within Gazan society.
They are a tangible demonstration that the people of Gaza have the will and the talent to work together and develop opportunities, where possible, for an inclusive society.
Edited by Phil Harris
Licensed from Inter Press Service