By Frud Bezhan | (RFE/RL)
The Iraqi government has launched an offensive against Islamic State militants (IS) in the northern city of Tikrit, but Iran appears to be leading the charge.
The Islamic republic has officially downplayed its role in the fight against IS in Iraq, saying its involvement was limited to training Iraqi Shi'ite militias and protecting Shi'ite shrines in central and eastern Iraq.
But the offensive in Tikrit, the northernmost point of Iraq's "Sunni Triangle," which was the birthplace of former Iraqi leader Saddam Hussein, has revealed a significantly expanded role.
General Lloyd Austin, the commander of U.S. Central Command, told the House Armed Services Committee on March 3 that Iran's presence in the Tikrit fight is a "logical progression of what they have been doing in the east of the country."
What Are 'Iranian-Based' Militias?
General Martin Dempsey, chairman of the Joint Chiefs of Staff, said the same day in addressing the Senate Armed Services Committee that "this is the most overt conduct of Iranian support, in the form of artillery and other things."
But some confusion was caused when he said that about two-thirds of the 30,000-strong force fighting to retake Tikrit is made up of "Iranian-based" Shi'ite militia fighters, with Iraqi government troops accounting for the other third.
It is widely understood that Iran has been actively training, equipping, and advising Shi'ite militias inside Iraq.
Michael Stephens, a Middle East security analyst and deputy director of the Royal United Services Institute for Defense and Security Studies (RUSI) in Qatar, says Iranian-backed Shi'ite militias are clearly at the front and center of the fighting in Iraq.
"The fact that the Iraqi security forces have an operational strength that is about one-third of that of the Shi'ite militias [fighting in Tikrit] indicates quite clearly that Iran has a huge influence on the security policy of the Iraqi state," he says.
However, there is little evidence to suggest that the militias are physically "based" in Iran.
Iranian Boots On The Ground
Iran's military role in Iraq is highlighted by the presence of General Qassem Suleimani, the head of the elite Quds force in the Islamic Revolutionary Guards Corps (IRGC). Suleimani is reportedly on the ground with Shi'ite fighters, and has been described as coordinating the operation on Tikrit.
Photos have emerged on Twitter of Suleimani assessing troop readiness in Iraq.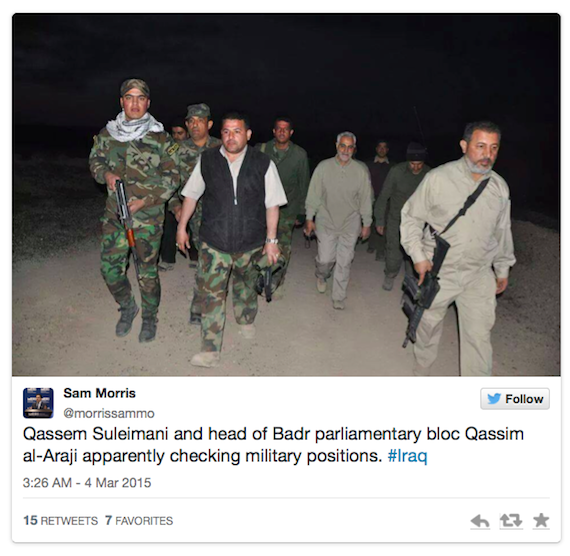 Stephens says the Iranian role does not end with overseeing operations, however, and suggests that Iranians are directly involved in the fighting.
"We estimate that there's probably a few hundred Quds force members inside Iraq fighting — not just doing command-and-control and logistics, but they are actually physically fighting as well," he says. "They are providing troops and they're providing weapons shipments in the form of airdrops."
Who Are The Iranian-Backed Shi'ite Militias?
There are several major Iranian-backed Shi'ite militias taking part in the Tikrit offensive.
Kataib Hezbollah, a well-armed and funded group that has also fought urban warfare in Syria, is arguably the most potent of these militias, according to analysts.
Asaib Ahl al-Haq is one of the largest and most formidable of the Iranian-backed militias. It grew out of a splinter group from the Sadrist Movement, a militia led by firebrand Shi'ite cleric Muqtada al-Sadr. Iran is believed to have provided training and logistical support to the group inside Iraq.
The third is the Badr Organization, a political party that operated from its base in Iran during the Iran-Iraq war of the 1980s. The organization, which has seats in Iraq's parliament, was formed by the IRGC and has a military wing, the Badr Brigades. Analysts describe the Badr Brigades as a regular fighting force that acts as a unit of the Iraqi armed forces.
All three militias are operating as Popular Mobilization units, an umbrella body that includes dozens of paramilitary groups. The units are under the command structure of the Iraqi Army, and the body is believed to take the lead in many Iraqi security operations.
Split Loyalties
Sajad Jiyad, a London-based Iraq analyst, says that although these groups fall within the structure of the Iraqi armed forces, all of them have their own weapons, training, and logistics. Some also have differing allegiances, he says.
"Kataib Hezbollah and Asaib Ahl al-Haq have quite clearly stated that they are followers of Iran's supreme leader, Ayatollah Ali Khamenei," says Jiyad. "So, they have made it clear who their ultimate allegiance is to. But these groups are Iraqi groups with Iraqi citizens."
Jiyad says that, apart from these Shi'ite-backed militias, other groups are also taking part in the Tikrit offensive, including militias that have sworn allegiance to Sadr or to Ayatollah Ali al-Sistani, Iraq's top Shi'ite cleric. There are also Turkomans, Yazidi, and Kurdish militias that have allegiance to their own local leaders.
Unlike the Iranian-backed groups, Jiyad adds, these militias are ultimately Iraqi groups and "have some sort of affinity for Iraq as a nation and have allegiance to Iraq as a nation."
Fears Of Sectarian Violence
There are concerns that Iran's military participation in the battle for Tikrit could promote sectarian violence.
Tikrit is predominately Sunni and some tribes there were accused of involvement in the massacre of hundreds of Shi'ite army recruits at a nearby base in June.
Some Shi'ite leaders, including the powerful head of the Popular Mobilization units, Hadi al-Amiri, have explicitly said the Tikrit operation would be an opportunity to exact revenge.
The United Nations has warned that operations "must be conducted with the utmost care to avoid civilian casualties, and with full respect for fundamental human rights principles and humanitarian law."
General Dempsey, chairman of the US Joint Chiefs of Staff, said Iran's military assistance in the Tikrit offensive could be positive as long as it did not fuel sectarian divisions.
Security analyst Stephens says that Iran's military involvement in Iraq does, however, fuel the IS narrative that Tehran and the West are colluding to crush legitimate Sunni grievances.
"There's no doubt that Iranian intervention in Iraq is driving a sectarian narrative," says Stephens. "But then it's not exactly as if IS are not deeply sectarian in their outlook."