By Silvia Boarini | —
JERUSALEM (IPS) – There was a symbolic dimension to a recent four-day march from the periphery of Israel to the corridors of power in Jerusalem to seek recognition for Bedouin villages.
The march, which began in the unrecognised Bedouin village of Wadi Al Nam in the Negev desert in southern Israel, ended on Mar. 29 with delivery of 'The Alternative Master Plan for Unrecognised Bedouin Villages' to the Head of State's office in Jerusalem.
On this occasion, Negev Bedouin community leaders and hundreds of representatives of civil society organisations (CSOs) were joined by Arab and Israeli members of the Knesset from a political society actor, the Joint List, a political alliance of four Arab-dominated parties in Israel – Hadash, the United Arab List, Balad and Ta'al.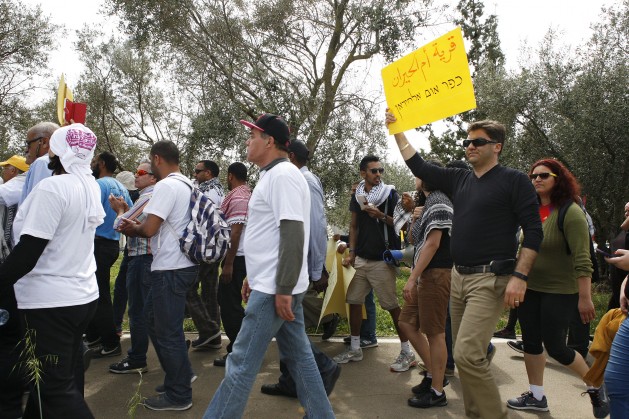 Participants in the march for recognition of Israel's Bedouin villages, which began in the unrecognised village of Wadi Al Nam in the Negev desert in southern Israel and ended with delivery of 'The Alternative Master Plan for Unrecognised Bedouin Villages' to the Head of State's office in Jerusalem, March 2015. Credit: Silvia Boarini/IPS
The Joint List, headed by Knesset member Ayman Odeh, was born out of Arab civil society's need for unity and is now very much a player able and willing to gain power and mediate between its constituency and the state.
"We are trying to present a different narrative [of Bedouin villages] to the people based on history, on facts, on legal rights and international human rights" – Professor Oren Yiftachel, Ben-Gurion University of the Negev
A recent European Commission report mapping CSOs in Israel describes their space for dealing with human and civil rights as shrinking and their contribution to governance often misunderstood or perceived as a threat by state authorities.
In this context, although it may not change the state's perception of CSOs, a strong partnership with a recognised political society actor such as the Joint List might at least mean that the mobilisation achieved by these organizations at the grassroots level can translate into change at legislative level.
"Because the Joint List is stronger now and we have a common goal, we think we can put more efficient pressure on the parliament and on the government to find a just solution for the people in the unrecognised villages," Fadi Masamra of the Regional Council of Unrecognised Villages (RCUV) told IPS.
RCUV is an elected civil society body that seeks to advance the rights of Bedouins in unrecognised villages,.
The common goal is gaining recognition for some 46 unrecognised Bedouin villages in the Negev which do not exist on any map and do not receive any basic services such as running water or electricity.
In 2011, the Israeli government approved a unilateral plan, known as the Prawer Plan, to "regularise Bedouin settlement" within five years by demolishing these unrecognised villages and forcibly relocating Bedouins to new localities. The plan sparked mass outcry and was eventually shelved in 2013.
Activists take pride in recalling that the Prawer Plan was stopped by people in the streets who demonstrated against it and not by representatives in the Knesset. They say that it this disconnect that both CSOs and the Joint List hope to be able to bridge by working together.
"I am very proud that the Joint List called for this march," Hanan al Sanah of womens' empowerment NGO Sidre told IPS as she walked with the marchers. "It shows that their commitment is real and they haven't forgotten their electoral promise. They are making the issue of recognition more visible and they can build on the mobilisation that has gone on for years within the community."
CSOs have worked tirelessly in the Negev not only to mobilise Bedouins against the Prawer Plan but also to produce alternative literature, reports and campaigns that challenge the government's classification of Bedouin presence in the Negev as "illegal".
By re-framing the issue of recognition around land rights, human rights and equality, they have been able to reach Jewish and international audiences and further shape the public debate.
CSOs have also been using a powerful state tool, that of mapping, to propose a tangible and viable solution in the form of the 'The Alternative Master Plan for Unrecognised Bedouin Villages'.
The plan was drawn up by a team led by Professor Oren Yiftachel, who teaches political geography, urban planning and public policy at Ben-Gurion University of the Negev, in collaboration with the RCUV and Bimkom, an NGO promoting equality in planning practices.
"We are trying to present a different narrative to the people based on history, on facts, on legal rights and international human rights," Yiftachel told IPS. "We worked for three years on the Alternative Plan and we have created a different scenario for the future."
The Alternative Plan draws a different map of the Negev in which unrecognised villages are "legalised" and can access the same development opportunities as their Jewish neighbours.
"This is a very scientific and detailed solution that fits within state planning and comes from the community, it is not imposed on them. It can make the process easier," explained RCUV's Masamra.
Although Yiftachel admits that since it was first presented in 2012 the Alternative Plan has largely been ignored by Knesset commissions, he believes attitudes have shifted and CSOs must continue to push for change.
"After all, a solution is overdue since the future of the unrecognised villages, and of the 100,000 Bedouins living in them, remains uncertain," he said, adding that "it is important to remember that the state is not a homogeneous body. There are people willing to consider recognition."
For the CSOs and activists working day in day out in the field, mobilisation remains key. "I would say that the real challenge remains mobilising both the Jewish and the Bedouin community," Michal Rotem of the Negev Coexistence Forum, a Jewish Arab NGO working in unrecognised villages, told IPS.
"Politicians come and go but it is the NGOs' role to bring more communities and groups into the struggle and to maintain engagement."
For Aziz Abu Madegham Al Turi, from the unrecognised village of Al Araqib, working closely with CSOs is important to bring new people to the Negev and come together in actions that reverberate beyond the Negev. "The worse it get gets the more united we become," he told IPS.
"The state tries to break us up but we connect through different organisations and committees and we find new strength. We come together to support each other."
Amir Abu Kweider, a prominent activist in the campaign against the Prawer Plan, sees the arrival of the Joint List as an occasion to form new alliances. "We need to intensify efforts to safeguard our rights against racist legislation and reach out to new Israeli audiences," he told IPS.
In this sense, the march can certainly be judged a success. Tamam Nasra, for example, travelled from the north of Israel to join the march. "Arabs in the South are no different from me, their problems are my problems. Their oppression is my oppression. This is why I heeded (Knesset member) Ayman Odeh's call," she told IPS.
Omri Evron, a Joint List voter from Tel Aviv, also joined out of a sense of collective responsibility. "It is not possible that in 2015 in Israel there are people who are effectively not recognised by the state," he told IPS. "This has to change."
The positive atmosphere was not dampened even by the knowledge that a new Benjamin Netanyahu government will be sworn in shortly.
"It doesn't matter if the right wing gets stronger," stressed Masamra. "If you think that it is not worth struggling then nothing will be changed. We have a responsibility towards our people and this is about human rights, not about who is more powerful."
Edited by Phil Harris