Mustafa Habib | Baghdad | (Niqash.org) | – –
Nobody in Iraqi politics appears to like Prime Minister Haider al-Abadi much anymore. Some dislike him for his proposed reforms, others for not reforming enough. It's a no-win scenario. How long can he last?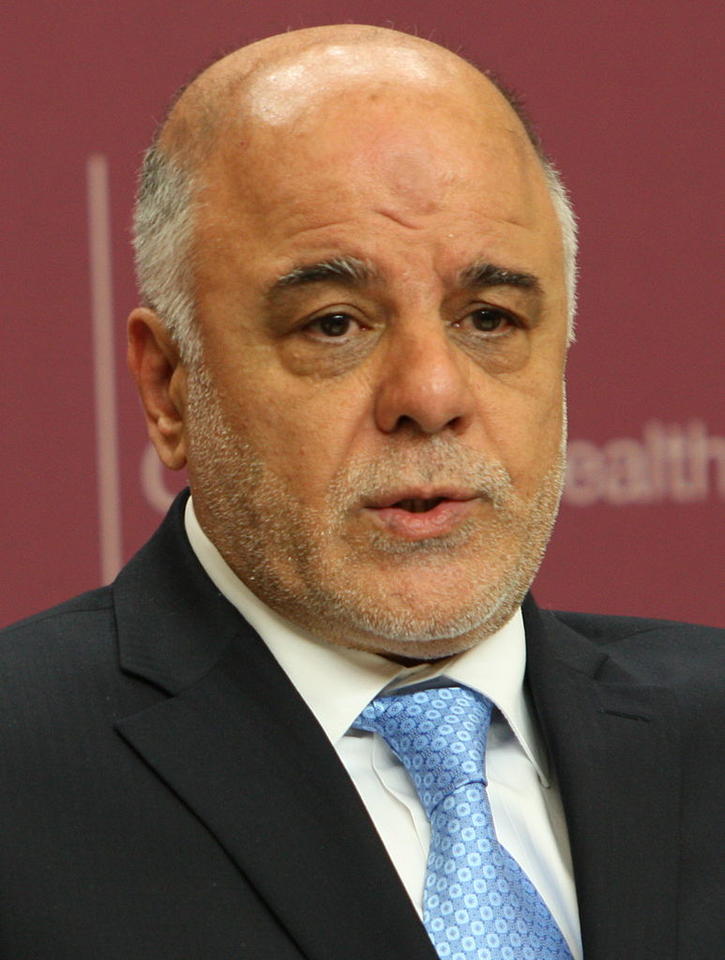 PM Haider al-Abadi: The senior politician may have run out of friends to call.
Iraq's Prime Minister Haider al-Abadi is in trouble – and with almost everyone. Sources from inside Iraq's government say that over the past few weeks politicians from Shiite Muslim parties, one of which is al-Abadi's own, and Sunni Muslim parties, traditionally opposed to the Shiite ones, have held private meetings to discuss whether al-Abadi can be removed from his post. The same sources suggest Iraqi Kurdish politicians were also involved and that al-Abadi was sent a warning.
The problem is, is that the beleaguered Prime Minister, who came to power with a clever balancing act in August 2014, is under siege from all sides, with all of his critics dissatisfied with him, and for different, opposing reasons. In fact, the only thing all his opponents have in common is that they're critical of al-Abadi.
The only thing all the PM's opponents have in common is that they're critical of him.
Much of the most vocal criticism is actually coming from al-Abadi's own political bloc, the State of Law coalition, and within that coalition, his own political party, the Dawa party. There is a split within the Shiite Muslim-dominated State of Law coalition and it appears to be deepening, with local analysts saying that it's likely to manifest most strongly during 2017's planned provincial elections.
Many of the MPs from within the coalition support Iraq's former Prime Minister, Nouri al-Maliki, who was ousted against his will and who has continued to try to undermine al-Abadi. The other side of the divide within the State of Law consists of the MPs who back al-Abadi – they are far fewer in number and tend to be other members of the Dawa party, most of whom were also political exiles in London, alongside al-Abadi.
The latter group supports al-Abadi's proposed reforms to combat corruption and the idea of creating a National Guard for Iraq, which would annex both the Shiite Muslim volunteer militias and Sunni muslim tribal fighters. This smaller pro-al-Abadi group is also opposed to allowing Russian air strikes against the extremist Islamic State group inside Iraq and they consider senior Iraqi cleric, Ali al-Sistani, their spiritual leader.
The former anti-al-Abadi group has far more members and is led by al-Maliki. It is opposed to the proposed reforms and the National Guard and is critical of the international coalition led by the US; it likes the idea of allowing Russian airstrikes in Iraq. Many believe this group leans more toward Iran as well.
Last week 60 MPs from the State of Law bloc accused al-Abadi of making decisions about issues like the anti-corruption reforms without consulting them and threatened to withdraw their support for him in Parliament.
This week news agency Reuters reported that part of that threat had been carried out: "Iraq's parliament voted unanimously … to bar the government from passing important reforms without its approval in an effort to curb Prime Minister Haider al-Abadi amid discontent over his leadership style". Many of those who signed the letter were al-Maliki supporters.
Most of the PM's support comes from outside his own party.
Al-Abadi himself denied the criticisms last week, saying that decisions about reform were only made after wide consultation. But it is also clear that most of the Iraqi Prime Minister's support is coming from Shiite Muslim politicians outside of his own party – he is supported by MPs from the Sadrist bloc, headed by the cleric Muqtada al-Sadr, and by those associated with the Islamic Supreme Council of Iraq, led by another younger cleric, Ammar al-Hakim. But recently even these supporters have been criticising al-Abadi.
Sunni Muslim politicians also seem to be becoming more critical of al-Abadi's methods. After a meeting of the Union of National Forces, a body that represents all of the Sunni Muslim parties in Iraq this week, the group released a statement in which it said that it too was seriously considering withdrawing support for al-Abadi. However they had very different reasons for criticising al-Abadi.
"Everyone is unhappy with al-Abadi but everyone has their own reasons for this," says senior Sunni Muslim MP, Dhafer al-Ani. "In our case, al-Abadi didn't facilitate the formation of the National Guard – this would have allowed the Sunni tribes to participate in the fight against the Islamic State and put an end to the chaos that is being caused by the Shiite Muslim militias. Additionally the government has not properly implemented the general amnesty law that it promised it would when it was formed," al-Ani told NIQASH.
The general amnesty law was part of a series of promised political reforms that should have seen political prisoners and those arrested on sectarian grounds during al-Maliki's rule released. It would have impacted many Sunnis in Iraq.
"Behind the scenes some very senior politicians are discussing whether al-Abadi has a future," al-Ani noted. "I have no doubt they're trying to find somebody who can replace him but until now there's been no decision made."
Also getting in on this act is former Prime Minister al-Maliki. He has even held a meeting with one of his avowed opponents, the Speaker of the Iraqi Parliament, Salim al-Jibouri. Previously al-Maliki had accused the senior Sunni Muslim politician of terrorist activities and tried to stop him taking part in elections.
In the past, Baghdad might have seen the Iraqi Kurdish politicians take part in this process too – they have often acted as kingmakers in the Iraqi Parliament, where they've held a crucial balance of power between the almost equal Sunni and Shiite parties. But at the moment it seems that the Iraqi Kurdish are too busy sorting out their own problems around who their president is and where their money is coming from, to bother with what's happening in Baghdad.
The Iraqi Kurdish seem very distant from the rest of Iraq at the moment and their only concern right now appears to be the financial deal between Baghdad and themselves. The semi-autonomous northern region is facing a financial crisis that has seen local civil servants unpaid for months on end. Protests there are ongoing as is the political tension between Iraqi Kurdish political parties about the region's presidency.
Popular protests are also ongoing in Baghdad and in several southern Iraqi provinces, where most of the country's Shiite Muslims live. Shortly after the demonstrations started in August, many of the protesters were supportive of al-Abadi and his planned reforms. Many of them said they would support him to the end if he managed to carry out the reforms he had suggested, especially those concerning corruption and improving state services to the general public. However over the past three months, the protestors seemed to have lost hope.
The PM asked protesters if they would like to see him lose his job.
Last week for the first time al-Abadi met with some of the leaders of the protest movement. They told him they were not happy with the pace at which reform was progressing. "At the end of meeting with al-Abadi, he asked us if we would ask him to leave the job," Jassim al-Hilfi, a Communist politician and one of the protest leaders, told NIQASH. "And we told him that, yes, we would do that if he did not implement real reforms. Al-Abadi is losing the support of the demonstrators," al-Hilfi continued. "The reforms that the government has announced are just ordinary decisions, not reforms."
It is not just politics putting pressure on Iraq's Prime Minister. For some time now it has been clear a major financial crisis is looming for Iraq. Falling oil prices mean that the country's planned national budget will not cover the country's expenses – most of Iraq's income is from oil sales. Add to this the extra costs required to manage the current security crisis and it is clear Iraq is in serious financial trouble.
At a recent meeting with a group of university staff and professors, al-Abadi spoke openly about looming financial problems; in the past he's been more subtle on this issue or downplayed the problem. "The state's revenues will be IQD40 trillion next year," al-Abadi told the group. "But the salaries of state employees alone add up to IQD50 trillion."
Two weeks ago al-Abadi's government agreed on reductions in the salaries of many civil servants, including the university staffers. "I know that some of you will suffer because of this but you should be aware of the realities here – especially because we are fighting the Islamic State, which also requires a lot of funding."
Of course this was not news to make anybody happy. State employees organised protests, strikes and incidents of civil disobedience. Among them were university staff who haven't been back to work, despite the fact that the new term has already started. The salaries of police and military were not curtailed, although it seems the volunteers with the occasionally controversial Shiite Muslim militias are being paid less.
In an open letter to al-Abadi, the leader of one of those militias, Abu Mahdi al-Mohandes, who heads Hezbollah in Iraq, complained that the militia members – who are seen by many Shiite Iraqis as heroes for volunteering to defend their country from the Islamic State group – have not been paid at all, or not been paid enough.
Pressure is also on al-Abadi from outside the country. Al-Maliki's contingent, who are supported by the Iranians, are advocating for interventions by Russia. On the other hand, US forces are threatening to decrease their assistance to Iraq if al-Abadi allows the Russians in. A careful diplomatic balancing act is required.
And all the while the extremist Islamic State group continues to control parts of the country and fight pro-government forces.
The question now must be this: Will al-Abadi be pushed out of his Prime Minister's chair soon? Probably not. Given the conditions in Iraq and the multiple, complicated problems the nation is dealing with, as well as the various pressures on the country's most senior politician, it's not a job many want. It won't be easy to find somebody to take over. So it doesn't seem likely that al-Abadi will be forced to leave the job anytime soon. But what does seem more likely is that he will continue on as the country's leader, but one who is forced to continue to try and build ever weaker consensuses, in a country where the strong man with the gun or the suitcase of money often wins.
Via Niqash.org