Ma'an News Agency | – –
BETHLEHEM (Ma'an) — Human rights organization Amnesty International released a statement Friday demanding Israel to drop the "baseless" charges against two Palestinian "human rights defenders" Farid al-Atrash and Issa Amro, who both currently face charges in an Israeli military court relating to their activism.
Both locals of the southern occupied West Bank district of Hebron, the two are facing prison time if found guilty. The hearing to decide their fates was adjourned until Dec. 21, after their lawyer asked for a number of the charges to be dropped during a Nov. 23 hearing.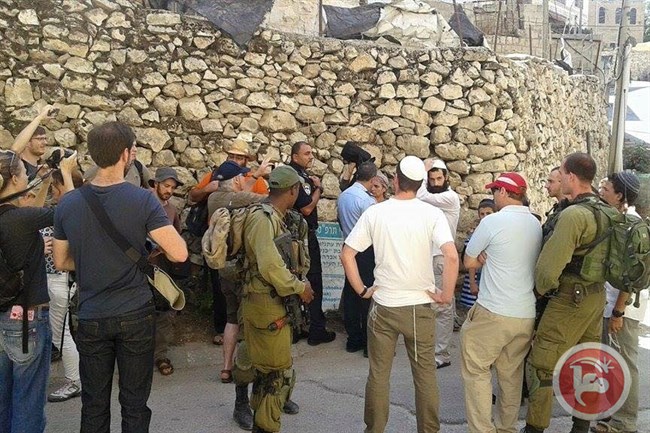 File Photo
In attendance at the Nov. 23 hearing were representatives from the the embassies and consulates of the United States, United Kingdom, Belgium, Finland, Germany, Spain, Sweden, and Switzerland, as well as representatives from the UN High Commissioner for Human Rights, Human Rights Watch, and other international organizations.
Both activists were arrested by Israeli authorities in Hebron in February within three days of each other, for their participation in a peaceful protest.
Al-Atrash, a lawyer, was arrested during a peaceful march on Feb. 26 commemorating the 22 years since extremist American-born Israeli settler Baruch Goldstein opened fire on Muslim Palestinian worshipers killing 29 and injuring more than 120 in Hebron's Ibrahimi mosque in 1994.
The demonstration also called for the re-opening of al-Shuhada street, which was shut down soon after the massacre, and called for the removal of discriminatory restrictions on movement placed on Palestinians in the city.
During the protest, Israeli forces threw sound bombs and fired tear gas at the protesters.
Israeli officials later presented al-Atrash to the Ofer military court with charges amounting to "participating in an illegal demonstration" and "attacking soldiers," according to Amnesty International.
Al-Atrash vehemently denied the charges, with video footage of the arrest corroborating his account, showing that he was standing and holding a poster peacefully in front of Israeli soldiers when he was pushed, dragged, and then violently arrested by a number of soldiers, according to Amnesty International.
Days later on Feb. 29, Issa Amro, coordinator of the Youth Against Settlements group, was arrested from the group's center in the Tel Rumeida neighborhood of Hebron's Old City for his participation in the Feb. 26 protest where al-Atrash was arrested.
On June 7, Israeli authorities handed Amro 18 charges, ranging from "insulting a soldier" to "assault," with some of the charges dating back to 2010.
According to Amnesty International, Amro has denied all the charges, and alleges that he was beaten by the Israeli police while in custody on two occasions. He has also claimed that he has faced threats and harassment from the Israeli army, police, and settlers.
The statement added that Amro and al-Atrash's lawyer asked for a number of the charges to be dropped against Amro because of the how old some of the charges are, and because some of them were from closed police files.
"Amnesty International believes that the charges against both men are baseless, and are solely related to their work as human rights defenders," the statement said.
The statement concluded by asking people to call on the Israeli authorities to "immediately drop all the charges against Issa Amro and Farid al-Atrash, to put an immediate end to harassment of Issa Amro and other human rights defenders in the Occupied Palestinian Territories, to immediately investigate Issa Amro's claims of beatings by the Israeli police, and prosecute those responsible if sufficient evidence is discovered."
Throughout tens of years of his activism, Amro has been highly regarded by Palestinian and international activists for his unrelenting commitment to nonviolent peaceful protest.
Magdalena Mughrabi, Deputy Regional Director for the Middle East and North Africa at Amnesty International, has previously condemned what she said was a "sustained campaign of harassment and assault at the hands of the Israeli military and settlers because of (Issa Amro's) activism."
In a November statement, Mughrabi said "imprisoning Issa Amro would be a travesty of justice and would silence yet another important critical voice in the Occupied Palestinian Territories," and that if convicted, Amro would be considered a "prisoner of conscience" by Amnesty International.
In 2011, an annual military courts report documented that Israeli military courts in the occupied West Bank have a 99.74 percent conviction rate for Palestinians brought before them.