IMEMC News | – –
An Israeli Finance Minister, who is in charge of implementing a law to demolish Palestinian homes in the West Bank, is himself living in an unlicensed building in an illegal colonial settlement on Occupied Palestinian land – and he is just one of many Israeli officials living in illegal settlements, according to a new report.
The report, released Wednesday by the Palestine Liberation Organization, documented a number of top Israeli officials, many of whom are tasked with displacing Palestinians or demolishing their homes, living on illegally seized Palestinian land.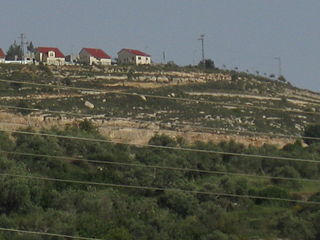 The Israeli Finance Minister Avi Cohen, lives in a colonial settlement outpost of 40 fixed and mobile structures, which was constructed on land stolen from Palestinian owners in the villages of Qaryout, Saweiya and Al-Luban in the Nablus region.
The settlement where Cohen lives is an expansion of the larger settlement of 'Eli' and is known as 'Bilgi Maime'. But the Israeli government did not approve this expansion, and Cohen's part in building his home on stolen Palestinian land is in direct violation of both Israeli and international law. However, since Cohen has headed the Regional Unit on Planning and Construction, under his watch the unit has tacitly and actively allowed the expansion of settlements like Bilgi Maime on Palestinian land.
Cohen himself was in charge of issuing demolition orders against Palestinian homes, including some that were demolished in order to make way for the construction of Cohen's illegal settlement outpost. He also defied an Israeli court order to dismantle the outpost, which was reiterated every year from 2001 – 2007.
Cohen is one of a number of Israeli officials who are either living in or contributing to illegal Israeli settlement outposts on stolen Palestinian land. During a recent investigation into corruption charges against the Yisrael Beitenu Party , the Israeli police discovered that Agriculture Minister, Uri Ariel, transferred government funds to pay for the debts of a settlement company that works in the West Bank named the Samaria Development Co.
The new report found that a fund of NIS 2.4 million was transferred to a private company from Israeli taxpayers to the executive arm of Aamnah Movement, which is active in the field of settlement construction.
This comes in the context of a new campaign of collective punishment against Palestinian residents of the neighborhood of Jabal al-Mukaber in Jerusalem, after one resident of the town ran his truck over a group of Israeli soldiers.
Meir Turgeman, deputy mayor of the occupation municipality in Jerusalem, and head of the local planning and construction committee, announced that he intends to impose collective punishment against the family members and neighbors of the deceased attacker.
The Israeli campaign also includes a resolution by the occupation Minister of interior, who ordered the seizure of 12 identity passes from members of Kanbar family (forcing these residents to move from their homes into internal displacement), and the distribution of demolition notices against 81 houses in the Al-Kanbar, Al-Jdeirh and Salaah neighborhoods, belonging to families of Al-Kabnbar, Al-Jdeirh and Salaah, under the pretext of being built without licenses.
Moreover, the campaign has also involved closing the main roads, which disturbed the movement of transportation, as well as preventing people from going to work and school, and hindered the ability to provide first aid.
Troops also invaded several agricultural and commercial stores, asking their owners to leave the areas, and finally threatened to carry out the demolition ord
Via IMEMC