Middle East Monitor | – –
Saudi Arabia's authorities have released a number of detained royals allegedly involved in corruption in public office. The move came after a settlement was agreed with the suspects, the daily Okaz reported yesterday.
The pro-government newspaper added that the detainees, who had been held in the Ritz-Carlton Hotel in Riyadh, included a serving minister and a former head of a major company. It did not disclose any names.
The Wall Street Journal recently reported that Riyadh has demanded at least $6 billion from Prince Al-Waleed Bin Talal as a condition for his release. The amount being demanded is among the highest sought for those who have been detained, the newspaper noted, citing sources close to the case.
Bin Talal, 62, is the 57th richest person in the world with an $18 billion fortune, according to the Bloomberg's Billionaires Index.
Read: Saudi royals start making payments for their release
Meanwhile, another senior royal, Prince Miteb bin Abdullah, once seen as a leading contender for the throne, has been released from detention after paying more than $1bn in a settlement with the authorities, the New-York based newspaper pointed out.
The Saudi authorities had been working on striking agreements with some of those in detention, asking them to hand over assets and cash in return for their freedom.
#SaudiPurge
Last month, the Saudi Crown Prince Mohammed Bin Salman launched a wide-ranging anti-corruption crackdown against dozens of the Kingdom's elite, a move that has seen by experts as a means used by the prince to consolidate his grip on power.
The authorities are yet to reveal detailed charges against any of the detainees.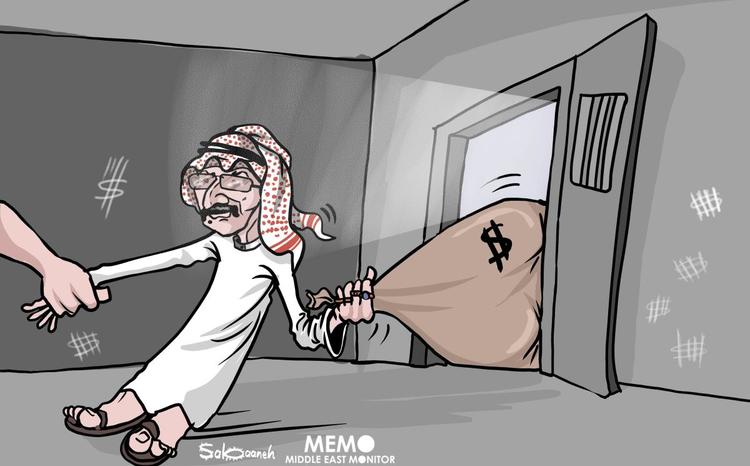 Saudi billionaire Prince Al-Waleed detained in corruption inquiry – Cartoon [Sabaaneh/MiddleEastMonitor]
This work by Middle East Monitor is licensed under a Creative Commons Attribution-NonCommercial-ShareAlike 4.0 International License.