Damascus (AFP) – Syrian regime forces advanced Saturday in southern Damascus after fierce clashes with the Islamic State group, state media said, as they pushed an offensive to drive the jihadists out of the capital.
Forces loyal to Bashar al-Assad retook control of Qadam's Mazaniyeh area after destroying IS fortified positions and "inflicting losses of personnel and equipment", state news agency SANA said.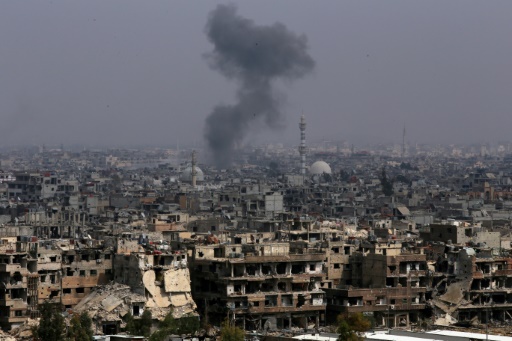 AFP / STRINGER. Smoke rises from the Palestinian Yarmuk refugee camp on the edge Syria's capital Damascus on April 28, 2018, during regime shelling targeting Islamic State group positions.
IS overran the neighbourhood of Qadam last month, and has held parts of the adjacent district of Hajar al-Aswad and the neighbouring Palestinian refugee camp of Yarmuk since 2015.
The "multi-front" advance in Qadam took place after hours of close-quarter clashes with the jihadists, SANA said, quoting an anonymous military source.
On the outskirts of Qadam, an AFP photographer saw clouds of smoke rising from the capital's southern districts as tanks fired on the area.
The regime offensive, backed by heavy air strikes and artillery fire, has killed 36 civilians since government bombardment intensified on April 19, according to the Britain-based Syrian Observatory for Human Rights.
Among the dead are 17 civilians, including seven children, that were killed in Yarmuk on Friday.
At least 79 regime fighters and 68 IS jihadists have also been killed, the Observatory said.
Fighting has also occurred in an area bordering Yarmuk camp and Hajar al-Aswad, "which the regime is trying to divide", Observatory chief Rami Abdel Rahman told AFP.
"The objective is to gradually retake segments of the area until it is all reconquered, as was the case in Eastern Ghouta," he said, referring to the last rebel stronghold near the capital that was seized by government forces last month.
Yarmuk and its surroundings are now IS's largest urban redoubt in Syria and neighbouring Iraq.
The jihadists have lost much of the territory they once controlled in Syria and Iraq, part of their cross-border "caliphate" declared in 2014.
The group now controls less than four percent of Syria, according to the Observatory.