As I mentioned earlier, an anonymous troll going by "Kirby" has attacked my new book Muhammad: Prophet of Peace amid the Clash of Empires
I have begun by addressing some of his substantive critiques ( here and here) – even though they may appear to be minor, because it is an opportunity to talk about history. I'll come back to the anti-Muslim hate speech later.
"Kirby" claimed to find three errors in my 87 pages of footnotes. He hasn't actually found any at all, but is confused by his own poor reading abilities.
2. "Kirby" says that on p. 160 I say that the Chapter of the Cave (18) [Surat al-Kahf] in the Qur'an has been redated to 629 or 630. Both traditional Muslim accounts and modern scholarship typically dated chapters of the Qur'an to the Mecca period (610-622) of the Prophet Muhammad's ministry or to the Medina period (622-632). This dating, however, has largely been done on the grounds of the length or style of the chapter, whereas we are increasingly in position to challenge these traditions on substantive grounds, i.e. on the basis of the material in the chapter.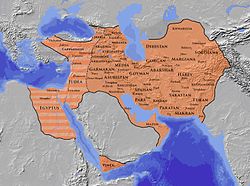 Sasanian Iran in 621.
The evidence for the Chapter of the Cave being from 629-630 is in Kevan van Bladel, "The Alexander Legend in the Qur'an 18:83–102," in The Qur'an in Its Historical Context, edited by Gabriel Said Reynolds (New York: Routledge, 2008), 175–202, which "Kirby" can find cited in footnote 17 of chapter 6.
The fascinating argument van Bladel makes is that the precise details given in the Qur'an about Alexander the Great's journey to the edge of the civilization and his construction of an iron wall to keep out Gog and Magog are only found in a Syriac "Alexander Romance" produced just after Roman Emperor Herakleios defeated the Sasanid monarch Khosrow II in 628 AD. Van Bladel drawing on Gerrit Reinink, argues that this tale was produced by scribes loyal to Constantinople, who were allegorically arguing that Herakleios (r. 610-641) was the contemporary Alexander, who had saved civilization from an oppressive Iranian empire. He argues that somehow, the Qur'an retold the story referring to elements of this Syriac work.
I believe that the Qur'an strongly took the side of Herakleios against the Sasanian aggressors, and it may well be that imperial couriers spreading this text around after 628 managed to get it to the Hejaz (wouldn't it have been sent to Christian-ruled Axum/ Ethiopia across the Red Sea from Medina, as well?). Both in the Alexander Romance and in the Qur'an, Alexander the Great is called the "two-horned," which may derive from how he was depicted, with a two-horned helmet, or may have an apocalyptic significance based on the book of Daniel. Zeus had been shown by ancient Greeks wearing a helmet with two ram's horns, and it is thought that ancients made Alexander the son of Zeus and so adopted the same artistic convention for him.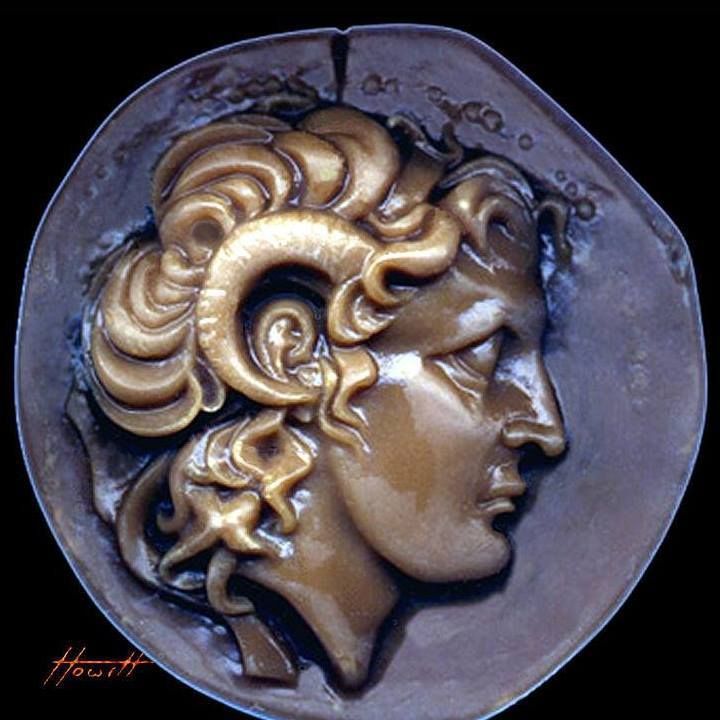 h/t Pinterest
Here is Muhammad Asad's translation of the episode of Alexander and the iron wall from Qur'an 18:
83 AND THEY will ask thee about the Two-Horned One. Say: "I will convey unto you something by which he ought to be remembered."
84 Behold, We established him securely on earth, and endowed him with [the knowledge of] the right means to achieve anything [that he might set out to achieve];
85 and so he chose the right means [in whatever he did].
86 [And he marched westwards] till, when he came to the setting of the sun, it appeared to him that it was setting in a dark, turbid sea; and nearby he found a people [given to every kind of wrongdoing]. We said: "O thou Two-Horned One! Thou mayest either cause [them] to suffer or treat them with kindness!"
87 He answered: "As for him who does wrong [unto others] – him shall we, in time, cause to suffer; and thereupon he shall be referred to his Sustainer, and He will cause him to suffer with unnameable suffering.
88 But as for him who believes and does righteous deeds – he will have the ultimate good [of the life to come] as his reward; and [as for us,] we shall make binding on him [only] that which is easy to fulfill."
89 And once again he chose the right means [to achieve a right end].
90 [And then he marched eastwards] till, when he came to the rising of the sun he found that it was rising on a people for whom We had provided no coverings against it:
91 thus [We had made them, and thus he left them; and We did encompass with Our knowledge all that he had in mind
92 And once again he chose the right means (to achieve a right end].
93 [And he marched on] till, when he reached [a place] between the two mountain-barriers, he found beneath them a people who could scarcely understand a word [of his language].
94 They said: "O thou Two-Horned One! Behold, Gog and Magog" are spoiling this land. May we, then, pay unto thee a tribute on the understanding that thou wilt erect a barrier between us and them?"
95 He answered: "That wherein my Sustainer has so securely established me is better [than anything that you could give me]; hence, do but help me with [your labour's] strength, [and] I shall erect a rampart between you and them!
96 Bring me ingots of iron!" Then, after he had [piled up the iron and] filled the gap between the two mountain-sides, he said: "[Light a fire and] ply your bellows!" At length, when he had made it [glow like] fire, he commanded: "Bring me molten copper which I may pour upon it."
97 And thus [the rampart was built, and] their enemies were unable to scale it, and neither were they able to pierce it.
98 Said [the King]: "This is a mercy from my Sustainer! Yet when the time appointed by my Sustainer shall come, He will make this [rampart] level with the ground: and my Sustainer's promise always comes true!"
99 AND ON that Day" We shall [call forth all mankind and] leave them to surge like waves [that dash] against one another; and the trumpet [of judgment] will be blown, and We shall gather them all together.
100 And on that Day We shall place hell, for all to see, before those who denied the truth-
101 those whose eyes had been veiled against any remembrance of Me because they could not bear to listen [to the voice of truth]!
"Kirby" alleges that I cited for the redating of the Chapter of the Cave instead Sidney Griffith, "Christian Lore and the Arabic Qur'an: 'The 'Companions of the Cave' in the Qur'an and in the Syriac Christian Tradition,'" in The Qur'an in Its Historical Context, pp. 109-138, but that Griffith dates it to the Mecca period (610-622).
I did not, however, cite Griffith's article for the new date for the Chapter of the Cave (18), and never said that I did. Griffith gives the older date of Chapter 18 of the Mecca period (610-622 AD), before van Bladel's new findings, I cited Griffith's article for its discussion of the Rip van Winkle tale of the Seven Sleepers of Ephesus, who were Christian youth persecuted around 250 AD, who woke up two centuries later to find themselves in a Christian Roman Empire that had bloomed after Constantine's conversion in 312 AD, a story the Qur'an in this chapter tells as well, as a spiritual parable.
I make the suggestion in my book that the parable of the Seven Sleepers of Ephesus is being told in the same chapter as the Alexander Romance, around 630, as an allegorical reference to the restoration of the Christian Roman Empire in the Near East after the defeat of Iran. The Qur'an is urging believers to wake from the slumber of Zoroastrian rule. And perhaps the Qur'an sees this moment as one of the apocalyptic fulfillment of Muhammad's prophetic mission.
Muhammad Asad's translation of these passages in the Chapter of the Cave (18) goes,
14 They were young men who declared the truth about the Oneness of Allah and They had to run away and take refuge in a cave
13 [And now] We shall truly relate to thee their story: 13 Behold, they were young men who had attained to faith in their Sustainer: and [so] We deepened their consciousness of the right way
14 and endowed their hearts with strength, so that they stood up 15 and said [to one another]: "Our Sustainer is the Sustainer of the heavens and the earth. Never shall we invoke any deity other than Him: [if we did,] we should indeed have uttered an enormity!
15 These people of ours have taken to worshipping [other] deities instead of Him, without being able to 16 adduce any reasonable evidence in support of their beliefs; and who could be more wicked than he who invents a lie about God?
16 Hence, now that you have withdrawn from them and from all that they worship instead of God, take refuge in that cave: God will spread His grace over you, and will endow you – whatever your [outward] condition – with all that your souls may need!"
17 And [for many a year] thou might have seen the sun, on its rising, incline away from their cave on the right, and, on its setting, turn aside from them on the left, while they lived on in that spacious chamber, 20 [bearing witness to] this of God's messages: He whom God guides, he alone has found the right way; whereas for him whom He lets go astray thou canst never find any protector who would point out the, right way. They are in a state of sleep and They were waken up by Allah after hundreds of year
18 And thou wouldst have thought that they were awake, whereas they lay asleep. And We caused them, to turn over repeatedly, now to the right, now to the left; and their dog [lay] on the threshold, its forepaws outstretched. Hadst thou come upon them [unprepared], thou wouldst surely have turned away from them in flight, and wouldst surely have been filled with awe of them.
19 And so, [in the course of time,] We awakened them; and they began to ask one another [as to what had happened to them]. One of them asked: "How long have you remained thus?" [The others] answered: "We have remained thus a day, or part of a day." Said they [who were endowed with deeper insight]: "Your Sustainer knows best how long you have thus remained. Let, then, one of you go with these silver coins to the town, and let him find out what food is purest there, and bring you thereof [some] provisions. But let him behave with great care and by no means make anyone aware of you:
20 for, behold, if they should come to know of you, they might stone you to death or force you back to their faith – in which case you would never attain to any good!" Their identity was disclosed to resolve the disputed issue of life after death, What a shame that instead of getting the point people are disputing about their numbers
21 AND IN THIS way have We drawn [people's] attention to their story, so that they might know – whenever they debate among themselves as to what happened to those [Men of the Cave] – that God's promise [of resurrection] is true, and that there can be no doubt as to [the coming of] the Last Hour. And so, some [people] said: "Erect a building in their memory; God knows best what happened to them." Said they whose opinion prevailed in the end: "Indeed, we must surely raise a house of worship in their memory!"
In other words, what "Kirby" has discovered is not three errors or three mis-citations but three correct statements that are linked to footnotes that support my position.
My arguments above, which are original except for the van Bladel piece, may be incorrect. The field will argue them out. And, there may be errors in my footnotes. With so many of them, it would be superhuman for me to have entirely avoided them. These are not those errors, but just the polemics of someone who would flunk one of my courses at the University of Michigan proving himself a poor reader of texts, who does not understand academic scholarship, and who is frustrated that his hate-speech talking points are being challenged.
3. I described an alleged trade journey of the young Muhammad in the 590s, in which he first made his way from his hometown of Mecca up to nearby Medina on his way to Damascus in the Roman Near East. "Kirby" complains that I said that "the Iranians had made Medina a vassal state in Muhammad's youth." but that I cited as a source for this statement Touraj Daryaee's book on Sasanian Iran, which says an Iranian geographical manual maintained that the Iranians claimed both Mecca and Medina.
"Kirby" isn't paying attention. My statement that Medina was an indirect vassal of Iran in Muhammad's youth is made on pp. 8-9 and the footnote goes to Michael Lecker, "The Levying of Taxes for the Sassanians in Pre-Islamic Medina (Yathrib)," JSAI 27 (2002): 109–126, which says exactly that.
Sasanian Iran's claims of long-term sovereignty over the entire Hejaz are not credible and I never suggested that they were. Yemeni inscriptions show that in the mid-500s, the kingdom ruled by the Ethiopian Abraha claimed the Hejaz. Only after the Iranian conquest of Yemen in 570 did politics in Western Arabia trend toward Iranian influence, and there is no reason to believe direct rule was involved. See C. J. Robin and S. Tayran, "Soixante-dix ans avant l'Islam: L'Arabie toute entière dominée par un roi chrétien," Comptes rendus des séances de l'Académie des inscriptions et belles-lettres (2012): 525–53, which I also cited and which "Kirby" hasn't read.