The Qur'an, the Muslim scripture, speaks of the Quraysh as a tribe that engaged in travel and worshiped at a shrine.
Qur'an 106, "Quraysh," says,
Because of his benevolence toward the Quraysh
they were enabled to undertake the winter and summer caravans.
So let them worship the lord of this shrine,
who provided them with food to stop their hunger and gave them security against fear.
Later Muslim tradition identified the Quraysh as a tribal federation that dominated Mecca in the sixth and early seventh centuries, and identified the shrine or temple (bayt) mentioned here as the Kaaba, the cube-shaped edifice dedicated to God in the center of Mecca.
I discuss Mecca, the Quraysh and the Kaaba in my new book:
The name "Quraysh" is rare in Arabic-language rock inscriptions, likely because the Safaitic inscriptions are from areas north of the Hejaz and in any case peter out around 400 before the confederation is alleged to have been formed at Mecca.
The Saudi archeologist Muhammad al-Maghthawi has published a photograph of an inscription in the vicinity of Medina, however, which does contain the adjective "Qurashi," i.e. "belonging to the Quraysh."
نقش لعبدالله بن عباد بن حمزة بن عبدالله بن الزبير القرشي ثم الأسدي رحمه الله وغفرله .

مرفق ترجمة موجزة لوالده عباد رحمه الله ورضي عنه #وحي_الحجارة #المدينة_المنورة pic.twitter.com/jiMI5UmlHc

— نوادر الآثار والنقوش?? (@mohammed93athar) April 6, 2019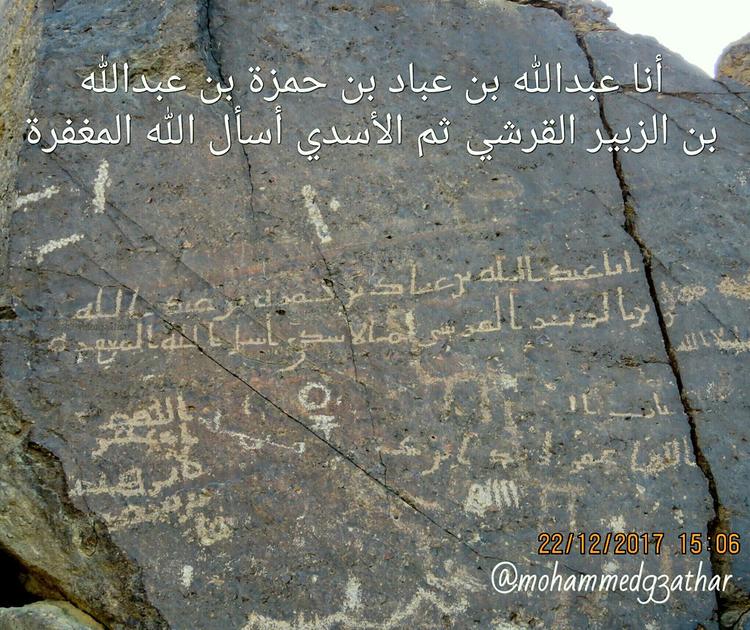 The inscription says, "I am `Abdu'llah b. `Ibad b. Hamza b. `Abdu'llah b. al-Zubayr al-Qurashi then al-Asadi. I ask God for forgiveness."
This individual belonged to the al-Asad clan, one of those that made up the Quraysh confederacy. His ancestor was al-Zubayr b. al-`Awwam, the nephew of Khadija, the first wife of the Prophet Muhammad and the husband of Asma', the younger daughter of Abu Bakr, the first vicar (r. 632-634) of Muhammad.
Al-Zubayr staged an uprising in 656 against the fourth Commander of the Faithful, `Ali b. Abi Talib (the cousin and son-in-law of the Prophet Muhammad). But when he had second thoughts and withdrew from the fray, he was assassinated in the same year.
His son `Abdu'llah (d. 692) also staged an uprising, in the Hejaz, against the Umayyad dynasty.
The `Abdu'llah in our inscription is the grandson of this `Abdu'llah who claimed leadership and failed.
Let's say Hamza was born around 650, and `Ibad around 674; then the `Abdullah of our inscription would have been born around 698 (figuring 24 years to a generation).
So this genealogy mentioning the Asad clan and the Quraysh confederation is likely from the early eighth century and could be within a century of the Prophet's death.