By Julian Wettengel | –
( Clean Energy Wire) – Germany has seen a second year of significant reductions in greenhouse gas emissions in 2019, as coal use fell by more than 20 percent and energy production from renewables increased, preliminary calculations by energy research group AG Energiebilanzen show. While the country's overall energy use declined more than 2 percent compared to 2018, energy-related CO₂ emissions even fell by about 7 percent. The data confirms projections from earlier this year and means Germany is edging closer to fulfilling its 2020 climate target than widely expected.
Germany's primary energy consumption has declined by 2.3 percent in 2019 and a "particularly strong decline" in coal use and rising renewables production has significantly pushed down greenhouse gas emissions for the second year in a row, according to preliminary calculations by energy research group AG Energiebilanzen (AGEB).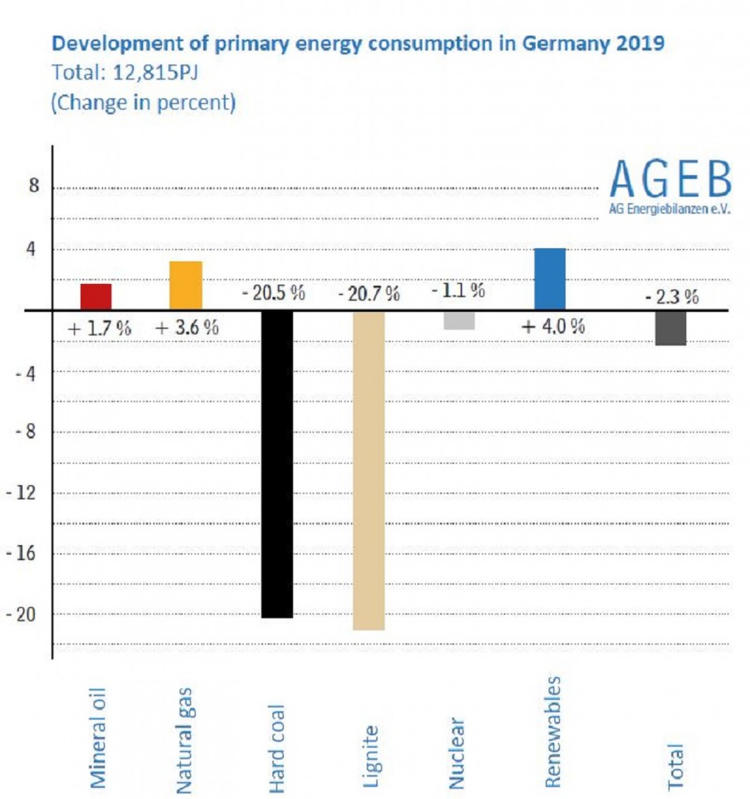 "We expect CO₂ emissions to fall markedly by a good 7 percent or 50 million tonnes, adjusted for temperature effects and changes in stocks," the researchers wrote. This could mean the country is set to exceed last year's drop, already the largest since the 2009 recession. The data, which confirms projections from earlier this year, does not take into account non-energy-related greenhouse gas emissions, such as in agriculture or process emissions in industry. The Federal Environment Agency (UBA) will publish a first estimate of total greenhouse gas emissions around mid-March 2020.
The data suggests Germany is edging closer to fulfilling its 2020 climate target of reducing greenhouse gas emissions by 40 percent, compared to 1990 levels. By 2018, Germany had reduced emissions by 30.8 percent. The government has been criticised for years as projections saw the country widely missing the target, with the latest official estimate by the environment ministry putting the 2020 reduction at about 33 percent without further action.
While researchers say the drop is largely market-driven due to low natural gas prices and high prices for emissions allowances, the government said its role should not be downplayed. "To claim that state action is without effect will not make our model any more appealing," said Maria Flachsbarth, state secretary in the German development ministry (BMZ) at the UN climate change conference COP25 in Madrid. The government coalition in September presented a comprehensive climate package meant to ensure that Germany reaches its 2030 targets.
AGEB said that energy consumption would decrease this year to 12,815 petajoule (PJ) from 13,115 PJ in 2018 due to improved energy efficiency and lower demand in energy-intensive industries during the economic slowdown, outweighing adverse effects such as cooler weather and population growth. Germany is still set to miss its goal of reducing energy use by 20 percent by 2020, compared to 2008 (-11% in 2019), however.
The same day AGEB released its data, the government cabinet adopted its new Energy Efficiency Strategy 2050, which for the first time introduces a target for 2030: to reduce energy consumption by 30 percent, compared to 2008.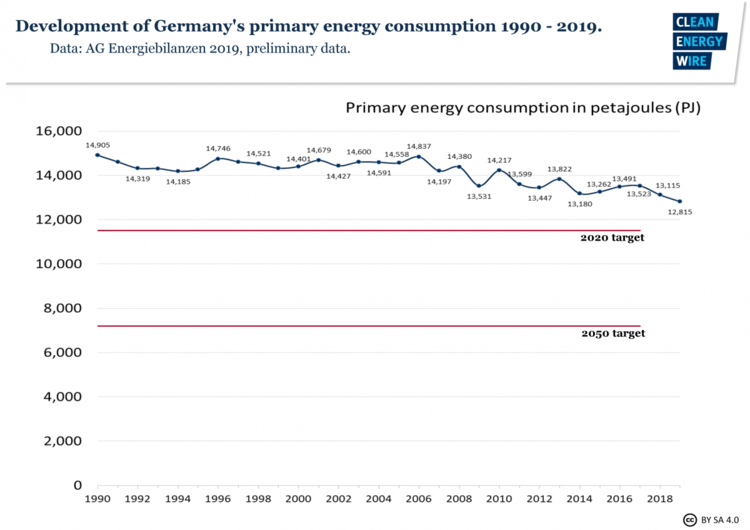 The country of the Energiewende – Germany's dual shift from nuclear and fossil fuels to renewable energy sources – has rapidly increased its share of renewable energy sources, but emissions have remained stubbornly high for years, mainly due to the continued use of coal power.
However, 2019 saw both hard coal and lignite use drop by more than 20 percent compared to 2018, as power production from renewables and natural gas increased and the use of hard coal by the steel industry declined. Moreover, old lignite plants were transferred into a reserve and several others were overhauled, meaning they were taken offline for a considerable amount of time.
On the other hand, however, oil consumption increased slightly as more diesel, petrol, kerosene and heating oil was sold. Lower temperatures in spring led to greater heating energy demand, which together with higher energy industry demand increased natural gas consumption. Nuclear power production remained largely the same as in 2018, but another plant, Philippsburg, will be shut down at the end of 2019.
Overall renewables production also increased, bringing their share in Germany's energy mix to almost 15 percent.
Low gas prices and high prices for allowances in the European emissions trading system (ETS) have changed the structure of European electricity production somewhat, leading to Germany's positive power export balance to decrease.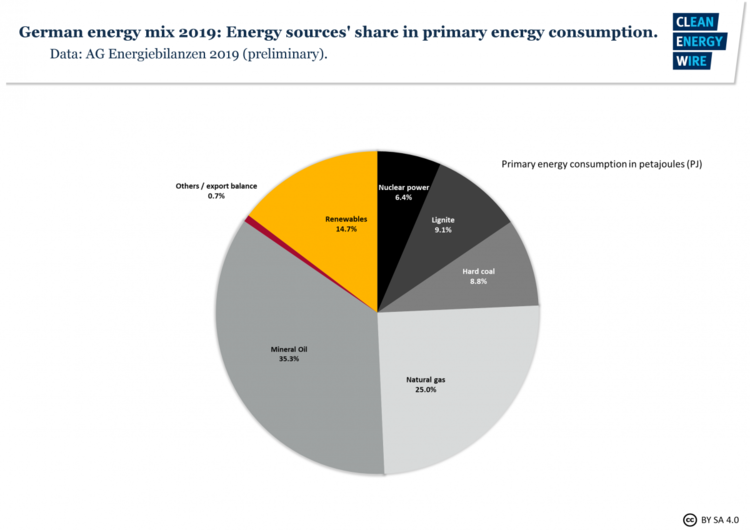 Renewables produce record 43 percent of German power consumed in 2019.
Electricity sector data by the German Association of Energy and Water Industries (BDEW) and the Centre for Solar Energy and Hydrogen Research Baden-Wuerttemberg (ZSW) showed that wind, solar and other renewable sources together supplied almost 43 percent of gross German power consumption in 2019, up from 38.2 percent last year, marking a new annual record that already exceeds the government's 2020 target of 35 percent.
Renewables will have produced a total of about 244 billion kilowatt hours (kWh) of electricity, with onshore wind responsible for the largest part, 104 billion kWh. Solar PV and biomass each generated about 45 billion kWh. Offshore wind saw the largest increase (25 percent) and generated about 24 billion kWh, while hydro power accounted for about 21 billion kWh.
Renewables expansion has been one of Germany's energy transition success stories, but the new record is overshadowed by a near halt in onshore wind development. The number of new wind turbines recently fell to unprecedented low levels and the country is veering off track in reaching its 2030 target of a 65 percent renewables share. A lack of space and increasingly restrictive distance regulations between wind turbines and residential areas have resulted in a downturn for the industry.
Social Democratic (SPD) MP Klaus Mindrup says the government must change course. He criticised the economy ministry's current energy transition policy in a guest commentary in Handelsblatt: "The motto seems to be: block, bureaucratise and make more expensive," he wrote.
All texts created by the Clean Energy Wire are available under a "Creative Commons Attribution 4.0 International Licence (CC BY 4.0)" .