Ann Arbor (Informed Comment) – Kamala Devi Harris says she is just an American, and that is certainly true. She identifies Black, and that is certainly true.
Here I would like to explore her Americanness by considering two of her ancestors, a grandfather and a great-grandmother, neither of whom had much to do with the United States. It is worth remembering that Donald Trump's Scottish grandparents on his mother's side also had nothing to do with the U.S., though his German grandfather on his father's side did immigrate to this country. As an immigrant story, the Trumps and the Harrises are not so different. The mother tongue of Trump's mother, born in the Outer Hebrides, was Scottish Gaelic, not English. The mother tongue of his paternal grandfather was German. Ms. Harris's grandparents in Jamaica spoke English, and while Ms. Harris's maternal grandfather spoke Tamil as his native tongue, he had excellent English, certainly better than that of Frederick Trump.
It is worth remembering that 7 of the 39 men who signed the US constitution were born abroad. Like Ms. Harris's father, one, Alexander Hamilton, was born in the Caribbean.*
Journalists have written about Ms. Harris's mother and father, Professor Shyamala Gopalan (d. 2009), a cancer specialist at the McGill University Faculty of Medicine, and Professor Donald Harris, a distinguished economist at Stanford University, where he is still emeritus. Her mother was born in Chennai (Madras) in southeast India. Her father was born in Jamaica. Both were naturalized citizens and Kamala Harris was born in Oakland. Her mother finished her undergraduate degree in New Delhi at the age of 19. Her father was equally brilliant. They both went to Berkeley as graduate students, and met at protests. Her mother met Martin Luther King, Jr. They were critical of the then curriculum that virtually excluded writers of color. Shyamala Gopalan made discoveries about the role of enzymes in breast cancer that could help lead to treatments. It is incredible how bright her two parents are.
Ms. Harris's maternal grandfather, P. V. Gopalan (1911–1998), born in a village near Chennai, initially served in the bureaucracy of the British Government of India but then in the 1940s joined the struggle for independence from the British Empire led by Mahatma Gandhi and Jawaharlal Nehru.
After 1947, with the establishment of the independent government of India under Nehru, he again served in the government. By the 1960s he had risen to become a Joint Secretary in the Ministry of Rehabilitation. That ministry helped refugees from West Pakistan who were displaced during Partition in 1947. British-sponsored partition split British India into India and Pakistan as tensions had risen between Hindus and Muslims. Between 500,000 and a million people died and between 10 and 12 million were made refugees. Hindus and Sikhs in Lahore fled to India, and many Muslims in North India fled to what became Pakistan. Actually it was more complex, since some Indian Muslims who initially moved or were forced to Pakistan came back to India, in something of a limbo. The Ministry was also involved in pressing claims on refugee property that had been lost. So, Kamala's maternal grandfather was essentially helping with refugee relief.
In 1966 he was detailed to the newly independent government of Zambia in the center of southern Africa to help direct refugee relief efforts. The official gazetteer noted,
"Consequent upon his deputation to the Government of Zambia as Director of Relief Measures and Refugees, Shri P. V. Gopalan relinquished charge of the office of Joint Secretary in the Ministry of Rehabilitation with effect from the afternoon of the 28th January 1966."
This posting surely came about because of P. V. Gopalan's experience with refugee relief in India itself.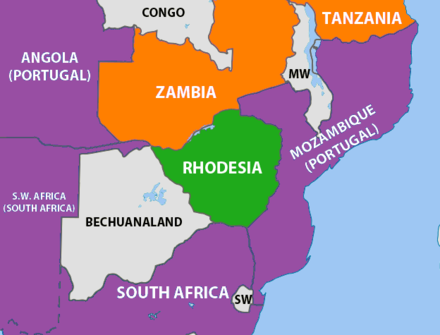 h/t Wikipedia.
And boy did newly independent post-colonial Zambia need help with refugees. The country had been "Northwest Rhodesia" under British colonial rule but after an anti-colonial struggle led by Kenneth Kaunda and others, became independent Zambia in 1964.
In her article, Angela G. Subulwa, "Settlement, protracted displacement, and repatriation at Mayukwayukwa in western Zambia," African Geographical Review, Volume 32, 2013 – Issue 1, Pages 29-43, notes:
"As a landlocked country in the middle of southern Africa, Zambia was (and is) deeply dependent on the stability of its neighbors (see Figure 1). Major geopolitical events leading up to and after independence in 1964, such as the Angolan and Mozambican liberation struggles,the Zimbabwean war, and the Namibian struggle, all affected Zambia's political and economic position (Burdette, 1984). In fact, of Zambia's eight neighbors,five were directly involved in serious conflicts-–Zimbabwe, Mozambique, Angola, Namibia, and Democratic Republic of the Congo(DRC)–and only one (Tanzania) could be considered an ally or a friend. Accord-ing to the US Secretary of the State at the time, Dean Rusk, Zambia was a 'potential island of stability in an ocean of angry cross-currents'(DeRoche, 2004)."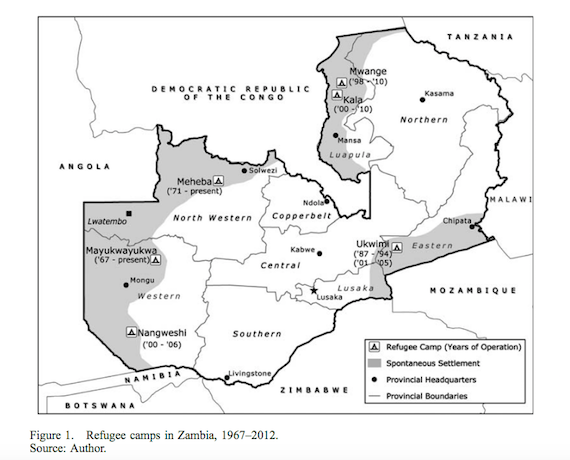 Angola and Mozambique were ruled rather brutally by Fascist Portugal and were waging independence struggles that produced refugees. Some 60,000 Angolans fled to Zambia.
So Ms. Harris's lineage contains a serious engagement with Africa and a rare South-South history of relief assistance.
Professor Donald Harris has spoken of his grandmother, Kamala's paternal great-grandmother.
She lived in Brown's Town in Jamaica, which today is a country of 2.9 million people (think: Kansas). It is 92 percent Black, though it also has Indians, Lebanese, whites and other ethnic groups. When Europeans conquered and began settling the Caribbean, they brought diseases that wiped out most of the native population. But they were thin on the ground, so they needed labor. They began kidnapping and enslaving people in West Africa, bringing them to work on plantations. But they also brought mosquitoes from West Africa and diseases like malaria and yellow fever. Europeans don't have immunity to those diseases, and began dying at high rates. West Africans can also die of those diseases, but they have at least some inherited immunity. ( This is why the 40 million Caribbeans are largely of African decent. Then when slavery was outlawed in the British Empire in 1833, the British began tricking East Indians into coming out as indentured servants. It was only around 1900 that governments began spraying for mosquitoes, with scientists having discovered that they spread tropical diseases, that it gradually became safe for Europeans to live there.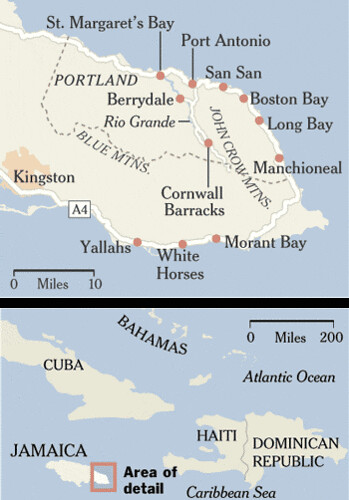 Hamilton Brown (1776 – 18 September 1843), an Anglo-Irish sugar plantation magnate and slave owner was one of those Europeans who braved the tropical diseases to run a plantation in Jamaica in the early nineteenth century, and he raped one of his slaves. Ms. Harris's lineage was born of that crime. He built an Anglican church that Ms. Harris's family attended.
Ms. Harris's great-grandmother was known before marriage as Chrishy (Christiana) Brown (d.1950). He says that she was a small businesswoman who owned a dry-goods store on the main street of Brown's Town. She appears to have had a detailed command of double-entry book-keeping: "Her constant focus was on issues that affected her business of buying and selling imported 'dry goods' as well as the cost of living, issues that required understanding and keeping up with the news – a task which she pursued with gusto."
She had married Joseph Alexander Harris "land-owner and agricultural 'produce' exporter (mostly pimento or all-spice), who died in 1939."
She had a keen interest in politics and public affairs, which Donald Harris reports remembering her discussing with customers. He also helped manage the family household. She was invested in doing charity for the less fortunate.
She deeply admired Sir William Alexander Clarke Bustamante, GBE, PC (1884-1977), a mixed-race union activist who founded the Jamaica Labour Party (JPL) in 1943, was jailed by the British, and led Jamaica to independence in 1962, after which he served as prime minister until 1977.
Chrishy Harris, despite being a small businesswoman,
"claimed, with conviction and pride, to be a "Labourite" (as members of the JLP were called) and for the interesting reason that, as she argued, "labour is at the heart of everything in life". Little did I know then, what I learned later in studying economics, that my grandmother was espousing her independently discovered version of a Labour Theory of Value!"
These are the worlds that met at Berkeley in the 1960s, and the intersection of which produced Kamala Devi Harris, who grew up going both to Hindu Temple and Baptist Church.
Ms. Harris is of a very different generation, an "American" as she puts it, who devoted her life to public service. She brings together in herself strands of the world, strands which contribute to America and make it better and stronger. Trump's grudgy nativism would have prevented his own mother and grandfather from coming here, though Ms. Harris's parents were so high-powered that they probably could have come even under his arbitrary and stringent rules. If she and Joe Biden win, America can start to close the door on its dark moment of nativist hysteria, and welcome again to its shores the best the world has to offer, as a way of self-renewal and progress.
Featured photo: By United States Senate – This file has been extracted from another file: Kamala Harris official photo.jpg, Public Domain, https://commons.wikimedia.org/w/index.php?curid=64332043
*An earlier version of this posting misidentified Alexander Hamilton's birthplace as Jamaica. It was St. Kitts and Nevia.