Ann Arbor (Informed Comment) –
The Pence-Harris debate was what disagreements among normal people might look like, as opposed to the weird behavior of Trump in the first presidential debate. While pundits are saying that it lacked fireworks, that is not true if you define fireworks as policy disagreement as opposed to mud wrestling.
The election at this point seems to be Biden-Harris's to lose. Harris may not have had a "moment." But she did what she needed to do. She demonstrated forcefulness and that she is on top of the issues. She showed that an African-American woman and an Asian-American woman can stand her ground against a privileged white male. She was likeable and sharp. She seems a credible president, which is one of the jobs of a vice presidential candidate.
Here are some moments where I thought Kamala Harris drove point crucial points, along with a tally of Pence's worst lies.
1. The most impressive moment in Kamala Harris owning Mike Pence was her opener, in which she laid out the case against this administration on its handling of the coronavirus. Polls show that this is an issue at the top of voter concerns. She needed to make this case, and she did:
"the American people have witnessed what is the greatest failure of any presidential administration in the history of our country. And here are the facts. 210,000 dead people in our country in just the last several months. Over 7 million people who have contracted this disease. One in five businesses closed. We're looking at frontline workers who have been treated like sacrificial workers. We are looking at over 30 million people, who in the last several months, had to file for unemployment. And here's the thing, on January 28th, the vice president and the president were informed about the nature of this pandemic. They were informed that it's lethal in consequence, that it is airborne, that it will affect young people, and that it would be contracted because it is airborne. And they knew what was happening, and they didn't tell you.

Can you imagine if you knew on January 28th, as opposed to March 13th, what they knew, what you might've done to prepare? They knew, and they covered it up. The president said it was a hoax. They minimized the seriousness of it. The president said, "You're on one side of his ledger if you wear a mask. You're on the other side of his ledger if you don't." And in spite of all of that, today, they still don't have a plan. They still don't have a plan. Well, Joe Biden does. And our plan is about what we need to do around a national strategy for contact tracing, for testing, for administration of the vaccine, and making sure that it will be free for all. That is the plan that Joe Biden has and that I have, knowing that we have to get a hold of what has been going on, and we need to save our country. And Joe Biden is the best leader to do that."
2. Another moment where Harris clearly had the best of the argument was her comments on Trump-Pence packing the courts mostly with white male arch-conservatives, many of them unqualified.
"Do you know that of the 50 people who President Trump appointed to the court of appeals for lifetime appointments, not one is Black?"
Politifact notes that according to Bloomberg, Trump has actually confirmed 53 life appointments to the court of appeals. And, as she said, none were African-American. Some 7 were Asian-American and just one was Latino.
Politifact also mirrored this graphic from The New York Times showing the Trump appointees to the court of appeals, just to reinforce Harris's point.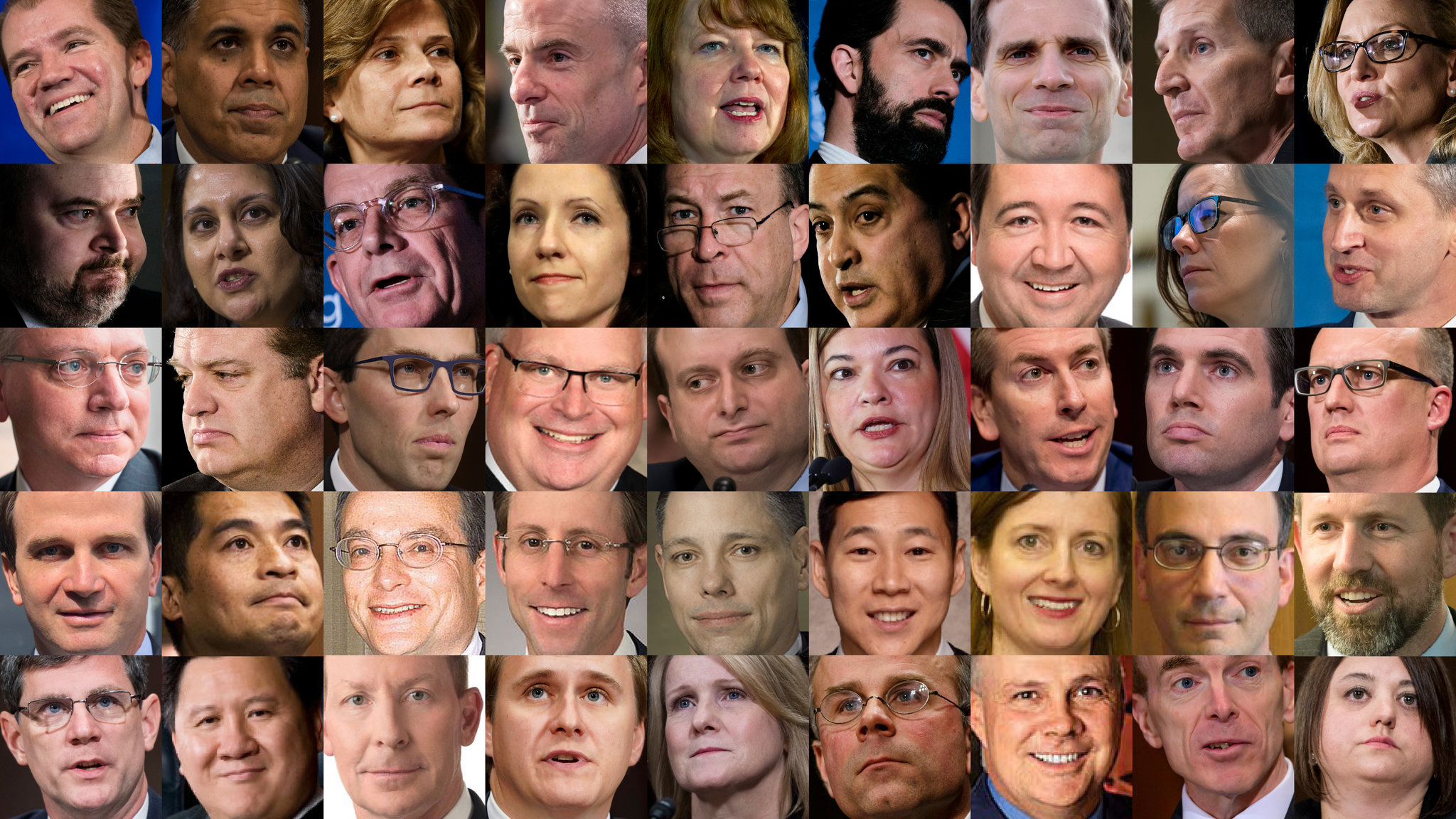 African-Americans are 13.4 percent of Americans, and another 2 percent of Americans have African heritage along with some other (Native American and/or White).
You know what 15.4 percent of 53 is? Eight. If Trump's judicial appointments had not actively discriminated against persons of African descent, there should have been 8 Black judges on the court of appeals.
3. Harris was also strong on the environment and the climate emergency. Climate is another issue voters increasingly feel strongly about, and on which a majority of Americans in polls are willing to base their choice of candidates.
"Joe Biden's economic plan… Moody's, which is a reputable Wall Street firm, has said will create seven million more jobs than Donald Trump's.

And part of those jobs that will be created by Joe Biden are going to be about clean energy and renewable energy. Because, you see, Joe understands that the West Coast of our country is burning, including my home state of California. Joe sees what is happening on the Gulf states, which are being battered by storms. Joe has seen and talked with the farmers in Iowa whose entire crops have been destroyed because of floods.

And so Joe believes, again, in science. I'll tell you something, Susan, I served when I first got to the Senate on the committee that's responsible for the environment. Do you know, this administration took the word science off the website, and then took the phrase climate change off the website? We have seen a pattern with this administration, which is they don't believe in science. And Joe's plan is about saying we're going to deal with it, but we're also going to create jobs. Donald Trump, when asked about the wildfires in California, and the question was, the science is telling us this… You know what Donald Trump said? Science doesn't know.

So let's talk about who is prepared to lead our country over the course of the next four years on what is an existential threat to us as human beings. Joe is about saying we're going to invest that in renewable energy, which is going to be about the creation of millions of jobs. We will achieve net zero emissions by 2050, carbon neutral by 2035. Joe has a plan. This has been a lot of talk from the Trump administration, and really it has been to go backward instead of forward. We will also reenter the Climate Agreement with pride."
As for Pence, I can't think of any moment where he really shone, but maybe you have to be a conservative. He was workmanlike and the best thing you can say about him is that he was good at making Trumpism sound less like the apocalypse than it actually does.
These are the most horrible lies he told:
1. "President Trump and I have a plan to improve healthcare and protect pre-existing conditions for every American."
As the BBC points out, there is no sign that he and Trump actually have any health care plan at all. Trump's executive order saying the US government supports mandatory coverage of pre-existing conditions is without legal effect and is dishonest for that reason. Trump and Pence are right now in court trying to abolish Obamacare, which extended coverage to 20 million more Americans, and which kept 55 million Americans with pre-existing conditions from having to pay top-off fees to the big insurers.
2. Pence said "Our air and land are cleaner than at any time ever recorded, our water is among cleanest in the world."
Our air is cleaner, but it is no thanks to Pence and Trump. It is a long term trend, often from local regulation. They have tried to remove mileage requirements from automobiles, guaranteeing they use more gasoline and so produce more pollution. They have promoted coal plants, the dirtiest fossil fuel. They have turned the EPA into an anti-EPA, allowing polluters to run riot.
Worse, Pence's definition of "clean" is so 1972. Air is not clean if it is being pumped full of 5 billion metric tons of carbon dioxide annually in the US. That is a heat-trapping gas and the opposite of clean and healthy.
As for water, as the BBC says US water is alarmingly dirty from corporate polluters using it as a sewer. The US is ranked 26th in water quality in the world.
On the climate emergency, Pence said,
"Now with regard to climate change, the climate is changing, but the issue is what's the cause and what do we do about it? President Trump has made it clear that we're going to continue to listen to the science. Now Joe Biden and Kamala Harris would put us back in the Paris Climate Accord. They'd impose the Green New Deal, which would crush American energy, would increase the energy costs of American families in their homes, and literally would crush American jobs.

And President Trump and I believe that the progress that we have made in a cleaner environment has been happening precisely because we have a strong, free market economy. What's remarkable is the United States has reduced CO2 more than the countries that are still in the Paris Climate Accord, but we've done it through innovation. And we've done it through natural gas and fracking, which Senator, the American people can go look at the record. I know Joe Biden says otherwise now, as you do, but the both of you repeatedly committed to abolishing fossil fuel and banning of fracking."
We know the cause of global heating, and it is that human beings are burning gasoline, natural gas and coal, which put carbon dioxide into the atmosphere and trap the sun's heat on earth. Pence's smarmy question about what causes it ignores the science. This is a man who still denies that smoking cigarettes causes cancer. He says whatever his corporate backers tell him to.
Since climate change is caused by burning hydrocarbons, you cannot in fact stop it by fracking (which releases extra methane, a very potent heat-trapping gas) or by burning natural gas. Natgas is half as polluting as coal, but it is still very carbon intensive compared to wind and solar.
The US has not reduced its greenhouse gas emissions and cannot do so by fracking and burning natural gas! Pence is just talking nonsense. He even referred to Trump's ridiculous idea that California's wildfires problem could be solved by forest management as opposed to ceasing the discharge of carbon dioxide into the atmosphere.
It was a glib, deeply dishonest, and above all destructive performance by Pence.
—–
Bonus video: