Ann Arbor (Informed Comment) – Trump is well known for fawning all over Vladimir Putin, Russia's autocrat who styles himself "president" from victories in phony elections. Back when he was campaigning the first time, Trump said of Mr. Putin,
"I've already said he is very much of a leader. The man has very strong control over his country. You can say, 'Oh, isn't that a terrible thing,' I mean, the man has very strong control over his country. Now it's a very different system, and I don't happen to like the system, but certainly in that system he's been a leader, far more than our president has been a leader."
So what a comedown for Trump that Putin has slapped a strict mask mandate on the Russian Federation.
Trump has also lobbied hard against restrictions on bars and restaurants. In his debate with Joe Biden, Trump said, "These are businesses with no money. Putting up plexiglass is unbelievably expensive. And it's not the answer. You're going to sit there in a cubicle wrapped around with plastic? These are businesses that are dying, Joe. You can't do that to people."
Too bad. The Russian government has imposed 11 pm to 6 am closures on all eateries and nightspots.
Putin met earlier this week with major cultural figures and expressed his thanks to them for their "spiritual and moral" leadership on combating the pandemic. He said he knew that the cultural sphere has suffered, with museums, theaters, and libraries closed.
Gee. I don't remember tough guy Trump saying anything at all about how hard it has been for museums and theaters or praising leaders in the arts for urging people to stay safe during the pandemic.
Just as it has the United States, the coronavirus has upended Russia with a second wave. The numbers are unprecedented. On Thursday, Russia set a new record of 17,717 COVID-19 cases in one day, along with 366 deaths. At 1,581,693 total cases so far, Russia has the fourth worst track record in absolute numbers. The United States, India, and Brazil are the top three. That is the company in which Trump has put the world's sole superpower.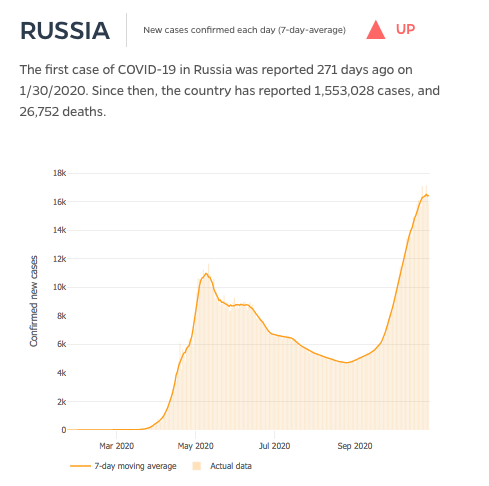 h/t Johns Hopkins Coronavirus Resource Center
Russian hospitals are groaning under the weight of new admissions. Here are some tidbits from the Russian press summarized by BBC Monitoring:
* On Wednesday, deputy prime minister Taytana Golikova said that there are 16 regions of the country where more than 90 per cent of hospital beds are full, and 5 regions where over 95% are. The Russian Federation has 49 regions or oblasts. Most of them have fewer open hospital beds than is the average for other administrative units, such as the 21 republics.
When so many hospital beds are full of COVID-19 patients, it means that other patients, suffering from other ailments, cannot be accommodated. Treating the virus victims also has left hospitals in some oblasts shorthanded of medical personnel.
* The situation is so bad that physicians employed in state hospitals or other state institutions have been forbidden from saying anything publicly about the pandemic. Why, the Trump administration would never try to muzzle CDC physicians that way, right?
Trump was worried about the New York City shutdown, complaining that the city is a "ghost town."
* Moscow Mayor Sergei Sobyanin, though, is arguably stricter than Bill de Blasio. In Russia's capital, at least 30% of employees have to work from home. Wearing masks in public places is strictly enforced. Residents over 65 and other high risk groups continue to self-quarantine.
* The Federal Service for Surveillance on Consumer Rights Protection and Human Wellbeing or Rospotrebnadzor, headed by Anna Popova, says that 85% of COVID-19 patients admit that they broke the rules, i.e., they did not wear masks in public places and did not wash their hands.
Popova worriedly reports that some 10 percent of the Russian population of 144.5 million are coronavirus denialists, who refuse to mask or obey mitigation measures.
That is worrisome. But in the US, the mask refuseniks are about half the population, and they are led by the denialist-in-chief, Donald Trump.
Putin manages to be a tough guy without denying basic science.
Trump has confused ignorance and genocide by neglect with machismo. And his own words have become true of himself:
"Now it's a very different system, and I don't happen to like the system, but certainly in that system he's been a leader, far more than our president has been a leader."
—–
Bonus Video: