Ann Arbor (Informed Comment) – Orthodox Rabbi Shmuely Boteach has come after the brilliant, Grammy-award-winning Kosovar-British pop star Dua Lipa with an ad in the New York Times accusing her of anti-Semitism for supporting Palestinian rights. She vigorously denied the charge and denounced the ad. She should also sue for libel.
Boteach is a huge supporter of the odious Trump and is as dedicated to the Israeli colonial enterprise in the Palestinian Occupied Territories as Cecil Rhodes was dedicated to colonizing southern Africa with superior white people. He flings the charge of anti-Semitism around the way former Grand Wizard of the KKK David Duke throws around accusations that white people are disadvantaged. Boteach actually thinks it is wrong for Palestinians in al-Khalil, which he calls Hebron, to protest having their property stolen.
Supporting human rights for Palestinians is not anti-Semitic. In fact, opposing anti-Semitism as a form of bigotry is incumbent on anyone who cares about Palestinian human rights.
Moreover, if Boteach is giving American and British youth a choice between himself and Dua Lipa, then he will lose, badly, and so will his cause.
Dua Lipa, when she lived in the UK, supported the Labour Party. In the US, she was a big fan of Bernie Sanders, but when Joe Biden won the Democratic nomination, she helped organize the Kosovar-Americans to back him.
The conflict between the two is in one sense generational. Boteach, an Orthodox rabbi, was born in Los Angeles at the tail end of the Baby Boom, in 1966. Dua Lipa was born at the tail end of the Millennial boom, in 1995. Both have origins in the Muslim world. Boteach's father was born in Iran in 1937. Lipa was born in London but her parents are from Pristina, born when it was still in Yugoslavia, but it is now the capital of Kosovo, and they are of Muslim heritage. The name Dua is from the Arabic Du`a, meaning prayer.
Both are in show business. Boteach had a popular television show on TLC. Lipa had been a model and then turned to singing and songwriting, bursting like a nova exploding star on the pop music scene in the past few years. Many of her singles have risen high on the Billboard and British charts, and her second album, Future Nostalgia, was the most streamed album by a woman on Spotify in 2020.
Boteach came of consciousness in an era when there were few prominent Muslim-Americans and they were generally denied a public voice on politics, and the American public was almost unanimously pro-Israel. Lipa is from a new, more assertive generation of youth and Muslim-Americans that declines to remain silent in the face of the injustice being visited by Israel on the occupied Palestinians.
Lipa is dating Anwar Hadid, the brother of prominent Palestinian-American models Isabella ["Bella"] Khair Hadid and her older sister Gigi Hadid. The Hadid siblings are the children of "Palestinian real-estate developer Mohamed Hadid and Dutch former model Yolanda Hadid (née van den Herik)." They grew up in Santa Barbara, Ca.
The people of Kosovo came near to being ethnically cleansed by the bloodthirsty Serbian dictator Slobodan Milosevic. Bill Cliinton intervened to save Kosovo, and Joe Biden in the Senate supported this effort, which is one reason Lipa proudly supports the president. Lipa comes by her sympathy for the plight of the Palestinians honestly.
Most Iranian Jews have had to flee Khomeinism in Iran, and if Boteach were not such a Zionist nationalist extremist, that could have given him an appreciation for the hell the Palestinians are being forced to live in. But he took his grievances in a different direction, using them to justify doing to others what was done to his group.
In fact, how anyone from a minority group could support the white nationalist, Trump, is big mystery. I think it is because identifying with a "strong" leader is a form of ego inflation for people without much real power.
Dua Lipa will survive nicely Boteach's self-promotional antics. Her dazzling hit "Levitation," which came out seven months ago, is still at #2 on the Billboard Top 100. Although she is of Muslim heritage I think we may conclude that she has no Salafi tendencies.
Dua Lipa – Levitating ft. DaBaby / Don't Start Now (Live at the GRAMMYs 2021)
This is her response on Instagram to Boteach's slimey slander: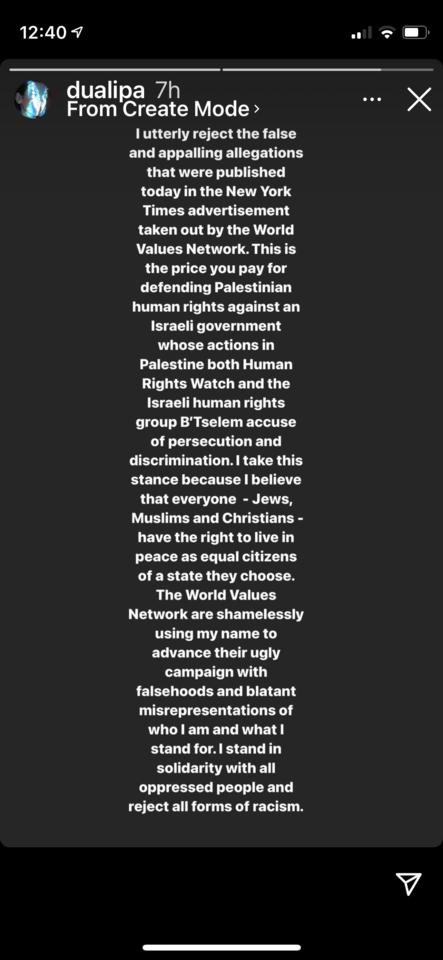 She also reposted a Palestinian attack on anti-Semitism as repugnant to the spirit of the demand for human rights for Palestinians– which requires that the same rights be accorded Jews: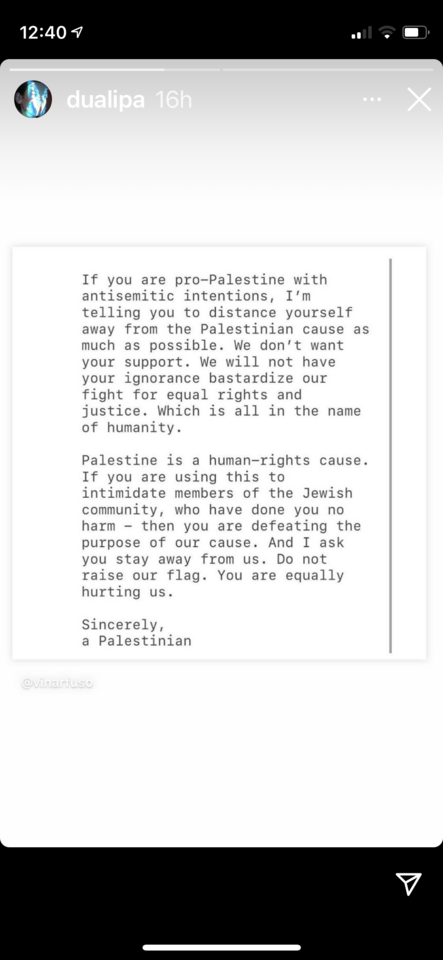 By the way, my title has a reference to "jumping the shark," referring to an episode of the 1970s situation comedy Happy Days where the writers had so run out of ideas that they even had Henry Winkler, water-skiing, jump a shark. The show ended its run soon thereafter.
Many celebrities eschew public politics, since there is a danger of losing some part of one's audience. In particular, hot button issues like criticizing a president, or that perennial public relations mine field, the Israeli-Palestinian conflict, have gotten celebrities in trouble. Natalie Maines of the Dixie Chicks country music band told a London audience in March, 2003, in the run-up to the Iraq War that she was ashamed that George W. Bush is from Texas. The band was blacklisted by thousands of country music radio channels, and the sales of their albums fell. Lipton cancelled their promotional deal with the band.
It probably matters whether there is a fit between the celebrity's politics and their audience. Country music fans were typically pro-war and pro-Bush. Taylor Swift's outspoken opposition to the odious Trump if anything made her more popular with her fans, since younger Americans tended to dislike him.
I suspect Dua Lipa's situation here is more like that of Taylor Swift.