Ann Arbor (Informed Comment) – The Republican Party has positioned itself to run against the Communist Party ever since the Russian Revolution in October, 1917. Never mind that there were never any American Communists to speak of– party membership peaked at 75,000 in the late 1940s. Republicans managed to find "Reds" everywhere, maybe even hiding right under your own bed. Better vote Republican, then, if you don't want a Commie as secret roommate. One of their dirty tricks was to paint anyone who questioned the reign of Capital as a Communist. Tricky Dick Nixon got his start in Congress running against the Industrial Workers of the World union, or Wobblies, as fifth columnists for the Moscow Politburo (they weren't). How delicious that on becoming president, Nixon immediately began wooing Communist China.
So it is ironic from a twentieth century point of view that Republican-leaning states are now called "Red States," after an election map used on one of the networks in the early zeroes of this century. A "Red" had been the dirtiest word in the GOP playbook.
Even more ironic is how the US Republican Party has converged with the typical Communist Party, with regard to political tactics and ideological rigidity.
Walt Kelly was the illustrator and writer of the popular "Pogo" comic strip in 1948 to 1973. In 1970 he created an Earth Day poster in which he had Pogo say, "We have met the enemy and he is us."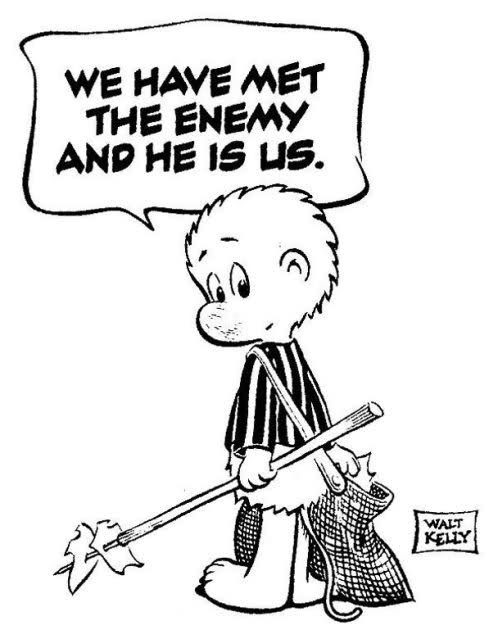 The Republican Party could say the same, of its old nemesis, the Communist Party.
It may be objected that the Republican Party backs the business classes, whereas the Communist Party is an organ of the working class. But actually, the Chinese Communist Party under Deng Xiao Peng in the 1980s swung around and declared itself the champion of all productive economic forces in society, including the business classes or bourgeoisie. China now has nearly as many billionaires as the United States.
Even if they champion different sections of society, however, their similarity now lies in their technologies of control. .
The Communist Party had a "party line" and questioning it led to expulsion or worse. In 1929 several major leaders of the Communist Party USA were expelled for favoring the heretical lines of Trotsky or Bukharin versus that of Joseph Stalin
The Communist Party had its own scientists, and some of them were both looney as the day is long and extremely powerful. Trofim Lysenko rejected genetics in biology, and Sam Kean at the Atlantic argued that he killed millions with his phony science of agriculture. Under Stalin, you weren't allowed to contradict him.
Gov. Ron DeSantis in Florida has never accepted science. He just demanded an end to pandemic mitigation measures, even though only a third of the population is vaccinated. He has prohibited cities and councils from mandating masks or social distancing. Of course, he is killing people, just as Lysenko did. GOP obstruction of measures to fight climate change is even more deadly, and just as Lysenko-like.
The twentieth century Communist Parties used to have pro forma "elections," but there was a rule: the Communist Party never loses, and any suggestion that it did lose was a form of treason. Not only did the Communist Party have to win, but a proper Stalinist had to win in the Soviet bloc. So when Alexander Dubček, a Slovak reformer, was chosen as First Secretary of the Czechoslovak Communist Party in January, 1968, General Secretary Leonid Brezhnev organized the Warsaw Pact nations to invade and crush the "Prague Spring." Dubček was considered a Communist in Name Only (I guess that would be CINO), sort of like Liz Cheney is considered nowadays a Republican in Name Only (RINO).
Under Brezhnev there was a "fusion" of state and corporate interests. While Trump's corporatism is different, there is still a form of fusion. Exxon-Mobil got the secretary of state slot for a while. Most of Trump's cabinet members were multi-millionaires and many were former CEOs. Steve Mnuchin, who was sued for 'asset-stripping' at Sears and accused of shady foreclosures as CEO at the OneWest Bank, got the Treasury slot. Raytheon placed its former lobbyist, Mark Esper, as secretary of defense.
More recently, GOP poobahs Mitch McConnell and Ted Cruz have threatened the corporations if they dare speak out against Republican voter suppression laws. That is a violation of the implicit social contract, where the corporations fund the party but the party decides electoral policy, not the corporations.
In today's Republican Party, it is also not allowed to lose an election. The Arizona GOP, some of whom were Capitol insurrectionists, is carrying out yet another "audit" of the 2020 presidential vote. The GOP officials who certified Mr. Biden's win in several states have been rebuked by their party, and Republican-controlled state legislatures have passed laws intended to allow the party to determine certification in 2024.
Mitt Romney was roundly booed and narrowly escaped censure at meeting of the Utah Republican Party for admitting that Trump lost the election and for voting to impeach him for inciting the insurrection. Liz Cheney, normally to the right of Genghis Khan, is being denounced as a socialist and there are those who want to remove her as the third highest Republican leader in the House or even expel her entirely. Her crimes? The same as Romney.
Another irony: The Maoists insisted back in the 1960s on following the little red book or "political correctness." Left of center American youth picked up the phrase as a joke in the 1970s and 1980s, sardonically accusing friends of not being "politically correct." Republicans don't seem to have a sense of humor, and they picked up the phrase as a cudgel against Democrats, accusing them of being ideologically repressive and demanding "political correctness." But surely the attacks on Romney and Cheney are precisely for their lack of political correctness in the Trumpian party, only now in the old Maoist sense.
So we know how the 2024 Republican Convention should open: "A Red salute, comrades!"
—-
Bonus video:
Sky News Australia: "Liz Cheney's critics circle as some Republicans push for her to be expelled from party"