Ann Arbor (Informed Comment) – Romain Brunet at France 24 termed Emannuel Macron's win in the presidential election a "Pyrrhic victory."
In 280-275 BC, Pyrrhus, the King of Epirus on the west coast of Greece, launched a war against the Roman Republic. He won some battles, but at such great cost that he may as well have been defeated. He is said to have muttered after the second such battle, "If we are victorious in one more battle with the Romans, we shall be utterly ruined."
Macron only won by 58.55% to far-right nationalist Marine Le Pen's 41.45%.
That would be all right for a center-right candidate against another center-right candidate. But he was running against a party with roots in the period of French collaboration with the Nazis and in the dirty war against Algeria.
It is true that President Biden just dodged a bullet, since a Le Pen presidency would have unraveled much of what he wants to accomplish in reviving NATO, supporting Ukraine and supporting the European Union against the Russian threat to Ukraine and Europe more generally. That he came close to not dodging that bullet should give us all pause.
It is also true, however, that the French blue collar workers who used to vote Socialist and the youth and urban left-liberals were frozen out of the presidential race. Third-place finisher Jean-Luc Mélenchon, the major Left candidate, did not participate in the run-off, by the rules of French presidential elections, and so his constituency was left without a voice. He had developed a comprehensive and impressive plan for a French "Green New Deal," which would have benefited the French economy, workers, and the environment. He also was supported by civil libertarians and feminists. Some of them may have held their noses and voted for Macron just to keep the far right hordes at bay.
French voters will have another opportunity for a say in parliamentary elections in early summer. If Macron ends up needing what's left of the French Left for his majority this time, at least some of Mélenchon's good ideas could be adopted.
It is frightening to imagine that over four in ten French voters wanted to have her as president. She uses the ugliest racial epithets against French Muslims and Arabs, some 8% of the population. She is tied to Vladimir Putin and had dismissed his annexation of Crimea in 2014 as no big deal. She clearly would not have supported the North Atlantic Treaty Organization's push to arm Ukraine against Russia, and indeed made noises about withdrawing from NATO's integrated military command. She has backed off withdrawing completely from the European Union, but she advocated nationalist moves that Jon Henley and Jennifer Rankin at The Guardian called "Frexit in all but name." She wants to make French law supercede European Union law, reserve good jobs for French citizens (contrary to EU rules), and generally hollow out the Union from within.
Whereas in the early years of this century center-right President Jacques Chirac wiped the map with Le Pen, winning roughly 80% to 20%, Macron faced a much closer contest. Only because so many French leftists and liberals held their noses and voted for him could he win.
As it is, some 28% of voters abstained. Six percent of ballots were turned in blank as a protest vote. That's fully a third of the French electorate, many of them youth or center-left or left, who wanted neither candidate on the ballot.
In the presidential election, Public Senat found that France lay divided into three geographical zones.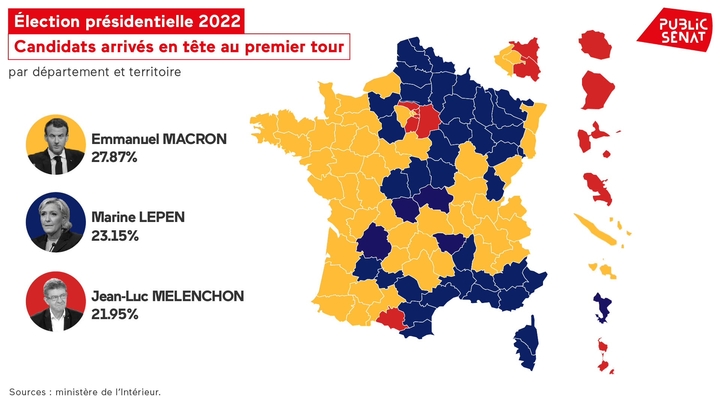 Source: French Interior Ministry
Public Senat quotes Jean Rivière at the University of Nantes as worrying that some of the upper and upper middle classes have swung to the far right, speaking of the "radicalization of the bourgeoisie," including in west Paris, which had never gone for the far right.
The west of France is Macron territory, having a tradition of center-right Christian Democracy (like Bavaria in Germany).
Le Pen performed well not only among some urban upper class constituencies but also in hardscrabble rural areas in the north and the south of the country. The French rural classes and the French rust belt clearly feel left behind by the Neoliberal policies of Macron and by globalization.
That is, Macron and his coterie may be producing the turn to the Far Right rather than combating it.
Le Pen ran on raising the minimum wage and reserving jobs for the French, and being mean to Muslims.
One way that Macron's victory is Pyrrhic is that he has taken over Islamophobia as a plank in his platform, trying to outflank Le Pen. He has been part of a move to dismantle basic civil liberties in France. He wants to break the heavily unionized French labor movement. He isn't very good on environmental or green issues.
Pyrrhic.