Update: Once the proposed policy got some publicity, Israeli authorities canceled the requirement that anyone who falls in love with a Palestinian in the West Bank has to report it within 30 days to the Israeli Occupation military. They kept all the other Draconian measures, though
Ann Arbor (Informed Comment) – In a creepy policy out of a Kafka or Joseph Heller novel, Israeli authorities have decreed that if a foreign visitor to the Palestinian West Bank develops a romantic relationship with a local Palestinian, they must report the relationship to the military Occupation authorities within 30 days. So reports the BBC, based on official Israeli documents.
It was inevitable that the day would come when the massive Israeli colonial apparatus, which journalist Michael Jansen called "the stalker state," would finally occupy the human heart itself.
Further, if a foreign resident marries a Palestinian, the two must leave the West Bank after 27 months for at least six months, which the Israeli authorities characterize as a "cooling off period." The Israeli military Occupation regime often refuses to allow foreign spouses of Palestinians to reside in the West Bank, in an obvious attempt to force these families abroad — one of many policies Israel enacts aiming at encouraging a Palestinian exodus out of the West Bank.
Note that foreigners who marry Israeli Jews (which they have to do abroad because the rabbis would never allow it) face no similar residency restrictions.
Israel has long played with the hearts of the Palestinians who live under its jackboot. Israeli surveillance of the stateless Palestinians is so intense that officers often discover evidence that individuals are having a quiet extra-marital affair. Israeli agents swoop in and threaten to expose the guilty lovers unless they agree to become informants. Where such arrangements have become known, it has sometimes resulted in the deaths of both lovers.
Occupation authorities also routinely blackmail gay Palestinians into serving as informants. The Palestinian Authority outlaws homosexuality, and conservative families can seldom accept LGBTQ members, so reputational fears make gay Palestinians easy to prey upon for Israeli intelligence. These gay victims, however, are just a subset of Israel's wide-ranging blackmail operations against Palestinians on many grounds.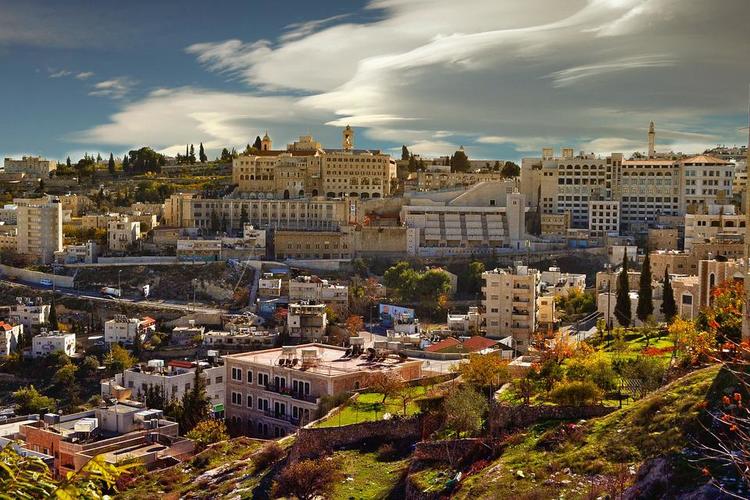 Bethlehem. H/t Pixabay.
Israel's military Occupation of the Palestinian West Bank has stretched on for 55 years, whereas the international law on such occupations envisages them as a short-term feature of an active shooting war, and therefore this Occupation is no longer in accordance with such instruments as the Hague Regulations of 1907, the 1949 Fourth Geneva Convention. or the Rome Statute of 2002. In short, the Occupation is now illegal. Occupying powers are forbidden to settle their own population in Occupied territories or to annex such territories, or to alter the life ways of the Occupied people. Israel is guilty of all three of these violations of the Geneva Convention. and of the Rome Statute of 2002 that underpins the International Criminal Court.
Since the everyday actions of Israeli authorities in the Palestinian West Bank are illegal and coming under increasing scrutiny from the world community, the Israeli authorities have responded by attempting to blind the world to what is happening there. A new Draconian set of laws is coming into effect early next week that are underpinned by Israeli officialdom's desire to restrict information coming out of Palestine. For instance, only 100 foreign professors will be allowed to teach at the 15 Palestinian institutions of higher education, and Israel has taken it upon itself to decide which professors will be allowed in and which not. Further, the foreign professors will only be allowed to teach for one semester, after which they will have to leave. This measure is intended to ensure that no long-term foreign professorships are taken up by foreigners in Palestinian colleges. This step will in turn ensure that the foreign professors teaching in Palestine don't have the opportunity to gain the kind of profound insight into Occupation practices that long residence would afford them.
Likewise, Israel has launched a transparently fraudulent attempt to ban key Palestinian human rights groups as "terrorists," but has been rebuffed in this effort by the European Union and the United States.
Let us close with a poem via the Poetry Foundation by the great Palestinian poet Mahmoud Darwish on love and the pain of absence, in honor of all those romances Israel has tried to disrupt or take advantage of or make the basis for de facto exile:
In Her Absence I Created Her Image
By Mahmoud Darwish
Translated by Fady Joudah
In her absence I created her image: out of the earthly
the hidden heavenly commences. I am here weighing
the expanse with the Jahili odes … and absence
is the guide, it is the guide. For each rhyme a tent
is pitched. And for each thing blowing in the wind
a rhyme. Absence teaches me its lesson: If it weren't
for the mirage you wouldn't have been steadfast …
Then in the emptiness, I disassembled a letter from one
of the ancient alphabets, and I leaned on absence. So who am I
after the visitation? A bird, or a passerby amid the symbols
and the memory vendors? As if I were an antique piece,
as if I were a ghost sneaking in from Yabous, telling myself:
Let's go to the seven hills. Then I placed
my mask on a stone, and walked as the sleepless
walk, led by my dream. And from one moon
to another I leapt. There is enough of unconsciousness
to liberate things from their history. And there
is enough of history to liberate unconsciousness
from its ascension. Take me to our early
years—my first girlfriend says. Leave
the windows open for the house sparrow to enter
your dream—I say … then I awaken, and no city is in
the city. No "here" except "there." And no there
but here. If it weren't for the mirage
I wouldn't have walked to the seven hills …
if it weren't for the mirage!
Mahmoud Darwish, "In Her Absence I Created Her Image" from The Butterfly's Burden. Copyright © 2008 by Mahmoud Darwish, English translation by Fady Joudah. Reprinted by permission of Copper Canyon Press.
Source: The Butterfly's Burden (Copper Canyon Press, 2007)