By Max Nesterak
( Minnesota Reformer ) – I visited picket lines in subzero temperatures and the high 90s this year, as I documented the surge in energy that workers are bringing to the labor movement.
It was an exciting year to cover labor, especially in Minnesota, with its high union participation rate and low unemployment rate.
Public support for unions is the highest its been since 1965, while the National Labor Relations Board reported union petitions were up 53% over last year. I expect the labor unrest we saw in 2022 to continue into next year, as workers seek wage increases to match high inflation and employers struggle to fill open positions.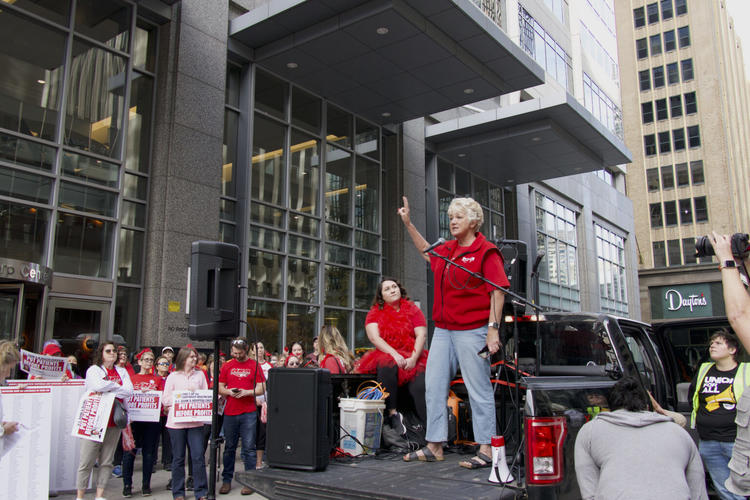 Minnesota Nurses Association President Mary Turner leads a rally of union nurses outside U.S. Bank's corporate offices in downtown Minneapolis on Nov. 2, 2022. Photo by Max Nesterak/Minnesota Reformer.
Here's a recap of three major topics that drove my reporting this year:
Labor strife
Power struggles between workers and the bosses were a defining feature of 2022, even with the midterms, war in Ukraine and Elon Musk competing for our attention.
I reported on unionizing drives at national brands reaching Minnesota, including Starbucks, Trader Joe's and Amazon. Workers at Planned Parenthood voted to unionize, and workers for the Twin Cities' largest property management company launched a unionization effort.
Yet despite the surge in union drives, union membership stayed mostly flat. The share of Minnesota workers who are unionized barely moved — from 15.8% to 16% — while nationwide the share of union workers decreased slightly — to 10.3%. That's a reflection of how hard it is to form a union, labor advocates say.
Workers in new and old unions also flexed their power to collectively stop working in seeking higher wages and better working conditions. Minneapolis teachers struck, as did thousands of nurses and hundreds of mental health workers — twice. Desk attendants in Twin Cities condo buildings also struck.
Minnesota's public defenders voted to strike. As did social service workers in Hennepin County, bus manufacturers in St. Cloud, and service workers at the University of Minnesota. (They were able to reach deals with higher wages before walking off the job.)
I spent a weekend working in a U dining hall, earning more than the 23-year veteran worker who trained me. I learned about the economic hardship faced by many of the U's lowest paid essential workers — nearly one in 10 of whom have experienced homelessness while working for the state's flagship research university.
One of the stories I enjoyed working on the most was this profile of Mary Turner, president of the Minnesota Nurses Association. She led the largest private-sector nurses strike in U.S. history, holding together 15,000 nurses across 15 hospitals. She has the vibe of a friendly Midwestern mom, who likes talking to strangers and is offended by the excesses of millionaires. This worked in her favor as she courted the public's support over hospital CEOs.
Wage theft
In May, the Reformer broke the story of dozens of construction workers claiming wage theft while working on the Minnesota Vikings' owners' massive Eagan development. The workers are mostly undocumented immigrants, yet came forward with the help of the local carpenters' union to report their unpaid earnings.
I also reported the story of a woman who says she was raped by another worker on the Vikings' development and then was fired after she reported it.
The stories about Viking Lakes highlight the appalling prevalence of wage theft and other labor abuses in the non-union construction sector, where underpaying workers amounts to a business model. The stories also illustrate how developers like the billionaire Wilf family insulate themselves from liability through layers of subcontracting.
The mistreatment persists in part because workers seldom report it to the authorities. Yet even when they do, justice is rare and slow-coming.
More than a year after first reporting the wage theft, the state Department of Labor and Industry has yet to conclude its investigation, and none of the workers have been made whole. The investigation has been delayed in part by subcontractors refusing to cooperate with authorities, according to a lawsuit filed against one by Attorney General Keith Ellison. The man accused of rape, meanwhile, has been charged but not apprehended.
Lawmakers did expand the investigative powers of the Commerce Fraud Bureau, which could lead to more criminal prosecutions of wage theft. To date, only one person has been charged (but not convicted) with felony wage theft.
Rent control overhaul
The St. Paul rent control ordinance drafted by activists and approved by voters took effect in May, but yielded little benefit to renters despite being one of the most stringent policies in the country.
Some St. Paul landlords, facing soaring inflation and energy costs, tried to get around the city's new rent control law by charging tenants for utilities that used to be included in the rent. Meanwhile, virtually every landlord who asked for an exemption to the 3% annual cap was granted one.
The policy also seemed to scare off new development, with permit applications for new housing plummeting in St. Paul even as Minneapolis and the suburbs saw a building boom. St. Paul was virtually the only city in the nation with rent control that didn't exempt new construction, but tenant activists believed developers were bluffing when they said investors would flee if the ordinance applied to new apartments.
The dip in new housing permits led the City Council — which was largely opposed to the ordinance before it passed — to pass sweeping changes, including an exemption for new construction.
Despite the turmoil in St. Paul, members of a rent control advisory group in Minneapolis recommended it enact an identical ordinance to the one approved by St. Paul voters. That sets up a similarly contentious debate over how best to address housing affordability in 2023.
Max Nesterak is the deputy editor of the Reformer and reports on labor and housing. Most recently he was an associate producer for Minnesota Public Radio after a stint at NPR. He also co-founded the Behavioral Scientist and was a Fulbright Scholar to Berlin, Germany.