Ann Arbor (Informed Comment) – Edwards Air Force Base in Kern County, California, near Los Angeles and San Bernardino, is now home to the largest solar power array on any Air Force base in the country, as of this past week. Indeed, with a goal of "1,118 MW of solar photovoltaic (PV) and 2,165 megawatts per hour (MWh) of battery storage," it aims to be the largest solar-plus-storage project in the world when finished.
Joe Bela of AFIMSC Public Affairs writes that the "solar array, with an approximate 3,287 megawatt-hours of battery energy storage, is part of a larger $2 billion development called the Edwards Sanborn Solar Storage Project." By next fall, the solar PV output is expected to be 755 megawatts.
This solar farm will have the nameplate electricity-generating capacity of a small nuclear power plant. Although nuclear plants work at night and solar farms do not, the 3.3 MWh of battery capacity somewhat levels the playing field, allowing power produced during daylight hours to be stored and released at night.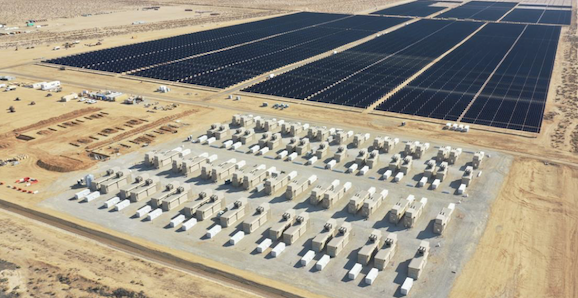 Rendering of the Edwards Sanborn solar-plus-storage project in Kern County, California. It will have a 3,191MWh battery storage system, one of the biggest in the world. Image: Terra-Gen / CPA.
The military is one of the biggest carbon polluters in the United States, but the Pentagon brass are eager to change that. They are also aware that bases are at risk from the climate emergency, including from extreme weather events that cause material damage and electricity blackouts. From a military point of view, the climate crisis is a security issue. The officer corps also take orders from the president, and Joe Biden wants to green the military.
In 1970, Congress passed the National Environmental Policy Act that requires all government agencies to attend to the environmental impact of their projects. The Biden administration is giving them a mandate to include climate impacts in their NEPA calculations. Bela quotes Shari Fort, a NEPA liason for the Air Force Materiel Command, as saying that "The Edwards Sanborn solar project will reduce our reliance on fossil fuels and provide renewable, cleaner energy that will ultimately protect the earth for future generations."
Edwards AFB had a corner of land that wasn't being utilized, and so the Air Force gave Terra-Gen LLC a 35-year lease on 2,600 acres and permitted them to build a solar farm on it. The two parties were careful to get all the permitting right and to ensure that they did not endanger any native American sites of the San Manuel Band of Mission Indians or the Tejon Tribe.
Another 2,000 acres will be leased to complete the project. When it is done, the solar farms on the base will power 164,000 homes and will avoid 320,000 tons of carbon dioxide emissions. There are about 274,000 households in Kern County (pop.917,673), so this one project could fuel nearly 60% of them.
The Air Force now has 5 solar arrays on bases across the US.