( RFE/RL ) – Assal appeared in public for months without a hijab, or Islamic head scarf, in solidarity with the antiestablishment protests that rocked Iran.
Even as the demonstrations that erupted in September have waned in recent weeks following a deadly state crackdown, the Tehran resident has continued to flout the country's hijab law, in a direct challenge to Iran's clerical regime.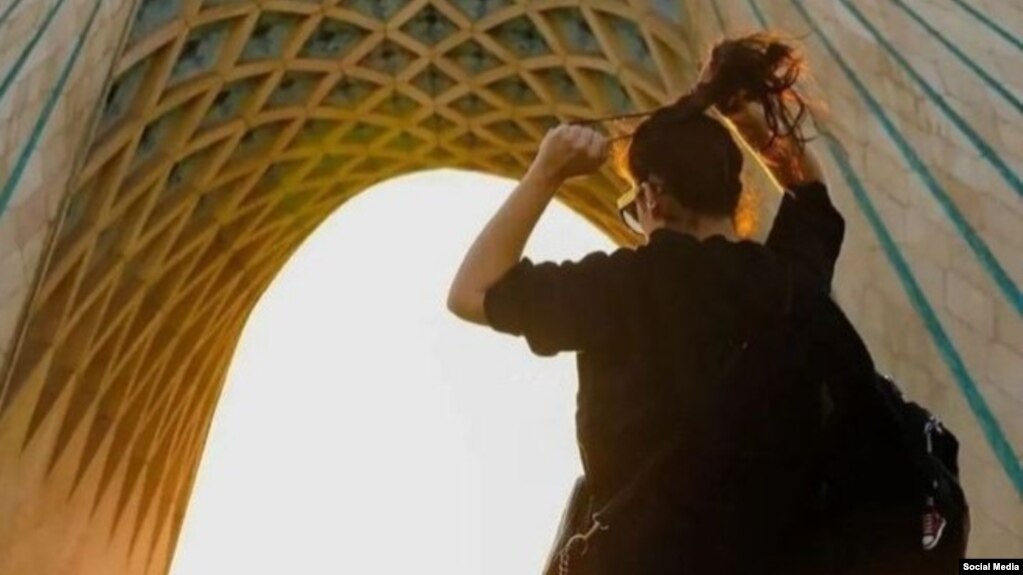 "I want to demonstrate to [the authorities] that this revolution is still alive, and our people will [fight] them with any means they can," the 32-year-old obstetrician, who requested that her full name not be used for fear of retribution, told RFE/RL's Radio Farda.
"When I walk past [security officers in the street] without a hijab, it's not easy. My whole body shakes. But I will never back down. I will keep protesting," she added.
Tanya, another Tehran resident, said women are removing their head scarves to take a stand against the clerical establishment that has deprived them of their most basic rights, including the right to choose how they appear in public.
"Women see it as their absolute right, a right they have been denied for years," said the psychologist, who also requested that her full name not be used. "I'm protesting the status quo."
Assal and Tanya are among a growing number of Iranian women who are appearing in public with their hair uncovered, including in the streets of major cities as well in restaurants, cafes, and shopping malls. They have been emboldened by the anti-regime protests in which women played a major role.
The demonstrations erupted following the September 16 death of 22-year-old Mahsa Amini soon after she was arrested by Iran's morality police for allegedly violating the hijab law.
The protests began as a rebuke against the brutal enforcement of the hijab law but soon snowballed into one of the most sustained anti-regime demonstrations against Iran's theocracy, with protesters calling for an end to clerical rule and demanding their social and political freedoms.
During the demonstrations, women and girls removed and burned their head scarves. With the protests subsiding after a state crackdown that left over 500 dead, women are venting their anger through acts of civil disobedience.
Tehran-based women's rights activist Leyla Mirghafari said the antiestablishment protests have intensified women's opposition to the hijab, a key pillar of the Islamic republic.
Many Iranians have had enough of the "unjust, repressive, and anti-women law," Mirghafari, who was arrested in 2018 for removing her head scarf in public, told RFE/RL.
'The Youth Are Fearless'
The hijab became compulsory two years after the 1979 Islamic Revolution. The law requires women and girls over the age of 9 to wear a head scarf in public.
Many women have flouted the rule over the years and pushed the boundaries of what officials say is acceptable, including exposing more of their hair and wearing smaller and more colorful head scarves.
In 2018, dozens of women protested the hijab law by standing on utility boxes in major cities and waving their head scarves, in unprecedented acts of defiance.
Under President Hassan Rohani, a relative moderate who was in office from 2013 to 2021, the enforcement of the hijab law was relaxed. But under ultraconservative Ebrahim Raisi, Iran's morality police have become increasingly active and violent in enforcing what the authorities have called the "complete hijab."
That has fueled growing opposition to the hijab, which has long been a symbol of the state's repression of women.
Mahsa, a mother of two, said that even in the holy city of Mashhad an increasing number of women are appearing in public without a hijab.
"I go shopping without my head scarf. I keep it around my neck. But the youth are fearless. Some don't even have a head scarf," Mahsa, who requested that her full name not be used for fear of retribution, told RFE/RL.
Authorities announced in December that the morality police, which enforced the hijab rule, had been abolished. But they warned that the judiciary would continue to regulate women's public appearances and behavior.
In recent weeks, officials have warned women to respect the hijab law and threatened to punish violators. The authorities have also shut down businesses, restaurants, cafes, and in some cases pharmacies, due to the owners' or managers' alleged failure to observe Islamic laws and hijab rules.
Judiciary chief Gholamhossein Mohseni Ejei warned on March 6 that women who violate the hijab rule will be punished, saying that removing the head scarf shows "enmity towards the establishment and its values."
Assal is aware that she could be arrested or fined for flouting the law. But she remains defiant.
"Even if they arrest me, they can't do [much]. My protest is more important," she said.
In recent weeks, even women newly released from prison have appeared in public without their head scarves.
They include filmmaker Mojgan Ilanlou, who was sentenced to 10 years in prison and 74 lashes after appearing in public without a hijab in October.
After being released in February as part of an amnesty ordered by Supreme Leader Ayatollah Ali Khamenei, Ilanlou stood outside Tehran's notorious Evin prison without a head scarf and flashed the victory sign.
Some commentators inside Iran have suggested that the authorities are fighting a losing battle.
"The number of women who appear in the streets without a head scarf is impressive," conservative commentator Mohammad Mohajeri wrote in an opinion piece published in November.
"It is possible that what we're seeing will become the norm," he said, comparing the hijab rule to laws banning satellites dishes and receivers that Iranians widely ignore.
Canada-based rights activist Azam Jangravi said the hijab is the symbol of "the problems women face in Iran."
"The [mandatory] hijab is the naked face of all the injustice and oppression women have faced," Jangravi, who was among women arrested in 2018 for protesting the hijab, told RFE/RL.
Via RFE/RL
Copyright (c)2022 RFE/RL, Inc. Used with the permission of Radio Free Europe/Radio Liberty, 1201 Connecticut Ave NW, Ste 400, Washington DC 20036.