Ann Arbor (Informed Comment) – What does it mean to say that there "has never been a Palestinian state" in the Holy Land? This is one of the allegations Florida Governor Ron DeSantis made on his trip to Israel, where he fell all over himself taking far right wing colonialist stances. DeSantis actually did a history degree at Yale University and his professors must spit up a little bit when they hear him talking like that. Or just hear him talking.
Ron DeSantis is an Italian-America and all of his great grandparents were born in southern Italy. You could also say that there "had never been an Italian state in Italy" until the 1860s. The Roman Empire doesn't count since it wasn't Italian-speaking. If you want to count it, then we have to count the Canaanite Empire of 3000 – 1550 BCE as the first Palestinian state. Both today's Palestinians and many Jews are descended from the Canaanites, but the latter were not Jewish in religion. Archeology doesn't find signs of what we would now call Judaism until about 200 BCE.
So about southern Italians. After the fall of the Roman Empire in the 400s, what is now Italy was divided into several mini-states and some of it was ruled by empires. Southern Italy, from whence DeSantis hailed, was ruled by the Byzantines, by the Muslim Arabs, by the Normans, by Aragon in Spain, by the Spanish Habsburgs and then Bourbons, and by France.
Here is what "Italy" looked like in 1810: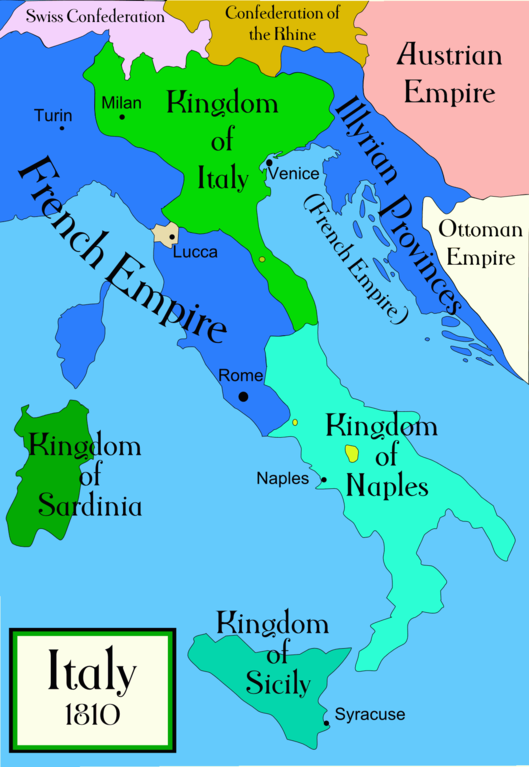 .
Via Wikipedia under a Creative Commons Attribution-Share Alike 3.0 Unported license.
So like the southern Italians, the Palestinians lived under empires. First the Byzantine, which had three provinces called Palestine. Then the Muslim empires — the Commanders of the Faithful, the Umayyads,the Abbasids, the Crusaders, the Ayyubids, Mamluks and Ottomans. But empires are layered. Sometimes groups can be relatively autonomous and still pro forma be under imperial rule.
Universe in Universes correctly notes, "Prior to the emergence of statehood in its modern conception, Palestine saw the formation of political entities that were quasi-independent from the Ottoman state. These entities played a significant role in guiding the construction of the urban centres that would become Palestine's coastal cities."
Although the rulers of Palestine (that's what local people called it) were supposedly Ottoman governors, they were actually more like semi-autonomous rulers in the 1700s, when the Ottomans decentralized.
Universe in Universes says, "Daher al-Omar grasped the importance of the coast and made Akka (Acre) his capital in 1748. His rule lasted six decades, during which he consolidated his authority despite Ottoman rule. This authority had a significant impact on the formation and development of his power as well as on the policies concerning fellahin, Bedouins, and various religious groups in northern Palestine. His rule saw the construction of coastal towns and the restructuring of the country's interior. This laid a solid foundation for cities' prosperity and the creation of an economic powerhouse reliant upon agriculture and foreign trade, especially cotton."
So there, Governor DeSantis, is your Palestinians ruling Palestine. Daher was not a mere Ottoman lackey. Indeed, at one point the Ottoman officials in Damascus invaded Palestine to get rid of him, and he fought them off.
Of course, "Palestinians" is a modern political identity with a genealogy that goes back to the reign of al-Omar. But so, too, is the Israeli political identity modern. It had not existed before the mid-20th century and is unconnected to ancient kingdoms. And "Italians" are a modern invention, of people like Garibaldi, too. The 19th and 20th century saw a vast reorganization of the world away from empires and toward nation-states with national identities.
The 1939 British White Paper of colonial Palestine scheduled the Palestinians to be an independent state by 1949, just like the Syrians and Iraqis. It did not happen not because there were no Palestinians but because the new political identity of the Israeli emerged and the Palestinians were ethnically cleansed and then occupied. Yet these very events contributed to the solidifying of a Palestinian identity.
A final question for Mr. DeSantis: Don't you think the 5 million people whom you refuse to recognize as being under Israeli occupation deserve basic human rights, the rights that derive from being citizens of a state? Your people emigrated from southern Italy, where they were very possibly not born "Italians," to the United States, where they were granted a new citizenship. That citizenship afforded them constitutional rights. Palestinians don't have such rights. What are you going to do about that?