Ann Arbor (Informed Comment) – Hard line Iranian President Ebrahim Raisi took a victory lap in Syria this week. He led an Iranian delegation of officials and cabinet members to Damascus for consultations with Syrian dictator Bashar al-Assad. Among those in the entourage were Foreign Minister Hossein Amirabdollahian, Defense Minister Mohammad Reza Ashtiani, and Oil Minister Javad Oji. Iran was one of the few supporters of the Baathist regime during the youth revolt and subsequent Civil War, and proved instrumental in saving the government from falling.
Raisi has had a number of wins lately. Saudi Arabia has agreed to reduce tensions with Tehran, using Chinese good offices to restore diplomatic relations and dial down the tension between the two. Raisi condemned Israel for having opposed this rapprochement and said that it demonstrates that the Israelis want to pit Middle Eastern states against one another.
Raisi was seeking to expand trade and other economic relations between the two countries. He also, however, wanted to underline the central role that Iran played in upholding the status quo in Syria against Sunni fundamentalist challengers such as al-Qaeda and ISIL. He falsely accused the United States of being behind the rise of these extremists, which he described as "takfiri," those who excommunicate and call for the death of other Muslims with whom they disagree. Iran, he said, had demonstrated the success of resistance to imperialism and had shown it was steadfast and that steadfastness is a recipe for victory. He quoted Ruhollah Khomeini to the effect that whatever the cost of resisting, the cost of surrender is much higher.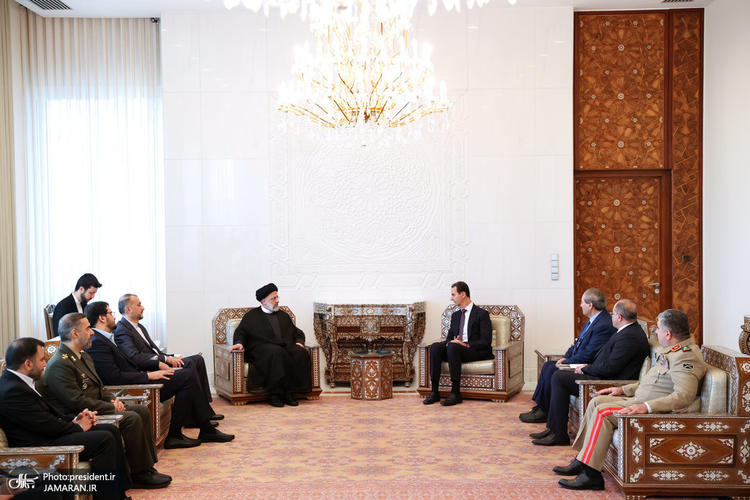 Office of the President of Iran/ Jamaran
He also praised the small Lebanese party-militia, Hezbollah, which intervened to support al-Assad's Syrian Arab Army against the al-Qaeda-linked "Succor Front." He also lauded the advisory role of the special operations Jerusalem Brigade of the Iranian Revolutionary Guards Corps, which under the leadership of the late Gen. Qasem Solimani had reinforced Syria's ability to stand against the rebels. Solimani was rocketed to death by Donald Trump in early January 2020.
Raisi presented Iran and Syria as champions of rationality against the irrational fanaticism of al-Qaeda and ISIL. He trumpeted the failure of the American "maximum pressure" sanctions against Iran. He condemned the US military presence in Syria and called for a return of Syrian sovereignty over all its territory. [There are about 900 US troops at a small base in eastern Syria.]
Officials from the two countries signed memoranda of cooperation in the fields of commerce, oil and energy, engineering, housing, rail and air transportation, the private sector, communications and technology. They also agreed to cooperate on the earthquake relief and to facilitate pilgrimage to Mecca.The United States has slapped wide ranging sanctions on Syria, but Khamenei boasted that these had proved ineffectual. Some 14 economic agreements were signed.
EcoIran writes, "Iran's state-owned railway company has long dreamed of expanding its network through Iraq and Syria, connecting it to the Syrian port of Latakia on the Mediterranean Sea– a project that Syrian opponents and critics of Tehran see as an attempt on Iran's part to increase its political influence."
The two countries announced that they will start a joint bank together, presumably as a way of sidestepping US sanctions.
While in Damascus, Raisi met with Palestinian delegations. He said that the liberation of Jerusalem was the most important issue for the Islamic world. Visiting with representatives of Hamas and Islamic Jihad, Raisi called for Palestinian self-rule and democracy. He said if the West weren't hypocritical about supporting democracy, they would want Palestinians to exercise their democratic rights.