Ann Arbor (Informed Comment) – The World Meteorological Organization says that a new report reveals Europe to be the continent undergoing the most rapid heating in the world, double the global average.
Global heating is caused by humans burning coal, fossil gas and petroleum and putting billions of metric tons of carbon dioxide into the atmosphere. CO2 is a greenhouse gas that prevents the sun's heat from radiating easily back out into space after it strikes the world's surface. The more such greenhouse gases are in the atmosphere, including carbon dioxide, methane and water vapor, the more the average surface temperature of the earth rises. This rise is not uniform across the globe, however. There are hot zones that are warming more quickly than the rest. The Arctic is heating up at four times the average global rate. Europe is heating up at double that rate, as is the nearby Middle East.
The average surface temperature of the whole world is 1.1 °C (about 2 °F.) higher now than in pre-industrial times 150 years ago.
Guess how much hotter Europe is?
WMO says, "In 2022, Europe was approximately 2.3 ± 0.2 °C above the pre-industrial (1850-1900) average." In other words Europe has heated up by 4 °F — twice as much as the average for the world. These number may not sound very big, but they are extremely alarming precisely because they are averages. If your average temperature is now 4 °F higher, that means sometimes it is 8 °F higher.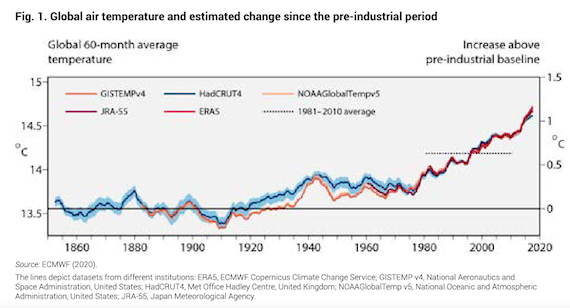 h/t WMO..
The difference between 106 °F and 110 °F is that at the latter temperature many aircraft can no longer take off. Fast moving air molecules make for thinner air and it can no longer provide the lift beneath the plane's wings necessary for take-off.
Likewise if it is both hot and humid, and you go out and exert yourself, you can get heat stroke, which happens if your body heats up to 104 °F (40 °C).
About 16,000 Europeans died of heat stroke in 2022. Extreme heat waves that can kill as many as 30,000 Europeans are estimated to be more likely now to occur twice a decade, because of human-caused climate change.
For the continent to heat up so fast is a major challenge to European civilization.
Summer 2022 was the hottest on record there, and 2023 may well break that record.
Some 156,000 Europeans were directly affected by extreme weather events in 2022– events that were made worse by climate change– and they cost $2 billion to the European economy.
The WMO writes, "France had its driest January to September, and the United Kingdom and Uccle (Belgium) had their driest January to August since 1976, with far-reaching consequences for agriculture and energy production. Spain's water reserve decreased to 41.9% of its total capacity by 26 July, with even lower capacity in some basins."
Agriculture is thus also at stake, i.e. food production and food prices.
Glaciers are also melting at an alarming pace, endangering water supplies. Even the conservative Swiss have had a wake-up call on this issue, and finally agreed in a referendum last week to try to get to zero carbon by 2050.
Europe is on a climate change juggernaut, and while it has made progress in moving away from fossil fuels, the continent is still way too dependent on coal and fossil gas if it wants to get to zero carbon by 2050.